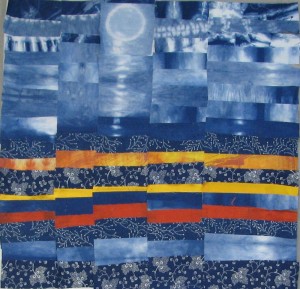 I spent  a couple of hours in the studio this afternoon. It is still quite hot here in Portland and my basement studio is the coolest spot in the house. We have AC, but we barely every use it.
I used my shibori cottons and linens for the sky area.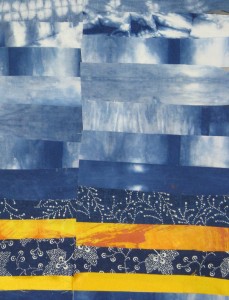 The ground area has various shades of yellows, red and oranges and some wonderful printed indigo fabrics that Kristin sent me. I have been saving them for this piece.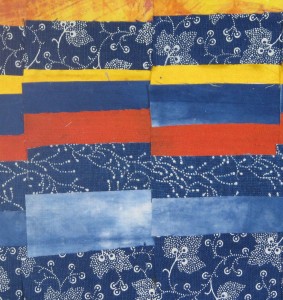 The yellows and oranges are to represent the color of Aspen leaves.
The fabrics are tacked to a Teflon sheet until I am satisfied with the arrangement. Then I will fuse them to batting and quilt the background before adding the tree trunks and whatever else I decide to use.
This is a piece that has been percolating in my brain for a long time. I seemed to have a mental block. I finally had a breakthrough in how I wanted to do the background.
On another note, I need some help from the bird watchers out there. Yesterday, when we were at Reed College, Mia told me that she saw a strange bird and she thought it might be a cross between a duck and a stork. I barely caught a glimpse of it scurrying into the shrubs. He seemed to have long legs and a long beak and a furry roundish body.
Today, I was walking Scooter over there again and there was the bird again. I got these photos with my iPhone. I couldn't get in close so I cropped these so you can see them better.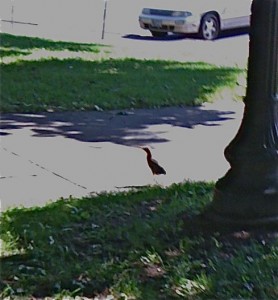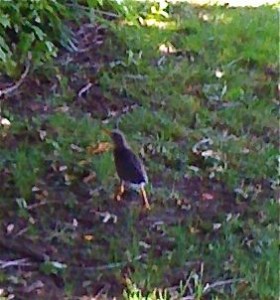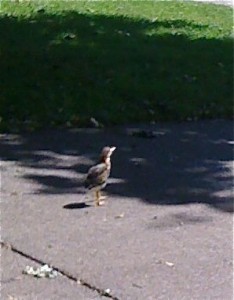 He does not have web feet. His beak is quite orange and longer than a normal bird's beak. We think it might be a blue heron baby because we are right across from Crystal Springs reservoir where they often can be seen.
If anyone has a guess as to its identity, please let me know. I am afraid that he is separated from the nest and wonder if I should try to call someone to rescue him.
For my USA readers, have a happy and safe 4th of July celebration. Our little Portland family will gather for some great food and fun. We will shun the places with crowds of people!!