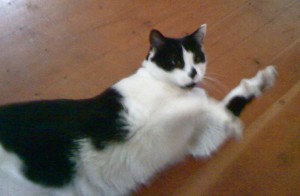 Meet my new best friend, Chester the three legged cat. He belongs to M & M and their family, but while they are in NC, I get to go to their home and pamper him. He didn't want me to leave today. He lost his leg when he was a kitten. It got caught in the neighbor's chain link fence. He is amazing and fearless.
I don't have many pictures, but lots of things to write about. Sorry. We have good news and bad news for our family right now. The good news is that my son Mark and Jayme are going to get married. They want to do a quiet ceremony at the courthouse in San Francisco. Then, both sides of the family will descend on Portland on a week-end in the middle of September. We will have several different events. Mr C and I are hosting a catered dinner here at our house on Friday night. I still have to meet with the caterer. It will be fun to have the west coast family join us in meeting Jayme's family. Mark's Godfather, Mr C's youngest brother, is coming from Florida. Here is the happy couple in a photo I took last year when they were visiting us.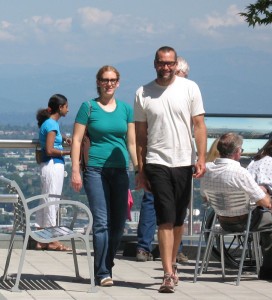 The bad news is that my BIL, husband of my sister, Jean, was just diagnosed with Acute Myeloid Leukemia. He starts aggressive chemo tomorrow and will be in the hospital for a month. Jean says that he had no symptoms. He has had bi-pass surgery and was having his annual round of tests when they found it. We are hoping for a complete recovery, but it is going to be a long and arduous haul for the family. It is hard to be across the country at a time like this.
On the positive health side, Mr C saw the urologist, and they confirmed that he does not have cancer — a lingering fear that we had. He will go in to have prostate surgery after the big event in September. And me? Well, I am doing the clear liquids tomorrow for my 5 year colonoscopy on Monday. I feat that I will be out of commission for at least 24 hours. Unfortunately, Lisa arrives in Portland for a week while I am at the hospital, but our sweet Amy Ruppel will pick her up and take good care of her and Wilfredo until I am back home.
I told you I had stuff.
Here is some more stuff on my mind. My dear friend, Karen Davis, aka Karoda, lives in Louisville. They just had flooding from torrential rains. She has her workshop/studio in the basement of her parent's home and suffered very bad flooding. She lost her journals, computer, art books. She thinks she can wash the fabric stash and salvage most of it. I told her that I wanted to help her get every thing back that she lost. She promised that I can help with whatever the insurance does not cover. If you are interested in helping Karen, e-mail me or leave a comment. I will get in touch with you when she is ready to get set up again.
Here is another project that you can participate in: Iraqi Bundles of Love. My virtual art quilting daughter, Kristin's husband, is in the US Army in Iraq. He has come up with an opportunity to participate in a wonderful project.
The basic premise is to make a bundle of fabric and sewing supplies from your own stash, mail it to her husband's APO (American) address, and he will facilitate the distribution of the bundles. By bundling the goodies, it saves time on his end as he won't have to redistribute the supplies or use excess packaging for them, and it makes it far simpler for his local counterparts to distribute them to those in need.
Go to Kristin's blog to get all of the details.
There you have it. Next time, I will have photos of the redo we have been doing in our guest bathroom, the one with the vintage pink and turquoise decor. It is looking fantastic and has kept Mr C, the painter, very busy.