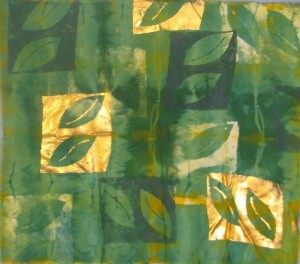 My studio, that is. I have been frustrated that I was having a hard time getting any surface design work done. Earlier this year, Mr C was working on hiding the heating ducts in my office and studio. I had changed the configuration of the space at that time. I came to the realization that the layout was not at all conducive to doing the stuff that I love to do in that space. So, today, I moved everything and put my tables back in the middle of the room. I am already so much happier in the space. Maybe it si just that I need change!!
While sorting stuff, I found some things I had forgotten about. Like the leafy art cloth up there. It is a rayon piece that I did in a class with Jane Dunnewold. It was dyed and over dyed and then I printed and foiled with a leaf stencil that I made. I think I was going to make a pillow cover. Here is a detail: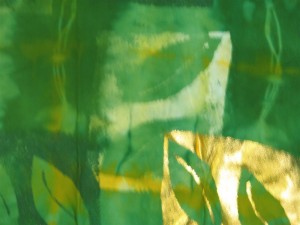 I also found this radiant sun left over from a class I took with Cara Gulati, ages ago. It is sandwiched and partially quilted. It would make a nice pillow cover, too.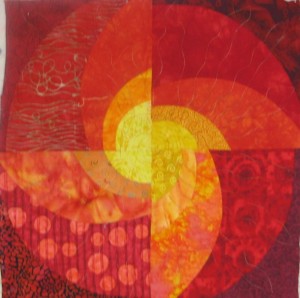 I had such a good experience today when I went to my local shopping area to do some errands. When I had my colonoscopy, they made me take my wedding ring off. Then, I couldn't get it back on!! There is still an indent on my ring finger almost 4 weeks later. I took to the local jewelry store to have it made larger. Saturday is our 45th wedding anniversary and I thought it might be nice to wear it. Problem is, it needs new prongs and they said it would take until next week. They were so nice and told me they would have it done by Saturday.
Then, I went to the Post Office to mail the 3 Aspen quilts. Again, great service. Two of them had to be mailed to Canada, and she kindly showed my the best and least expensive way to ship them.
And now, for something completely different, here is a photo of my two favorite people.