This is Fault Lines by Diane Wright who lives in Connecticut. I purchased it in the SAQA auction. I was so excited to get this piece. No photo does it justice. The fabric is raw silk. It is beautifully pieced, stitched and beaded. Mr C has given it his stamp of approval.
The other night, I went shopping in the Etsy shops of some Face Book friends. From Carol Dean Sharpe, an avid beader, I ordered a pendant. I opened the package to find this pretty box.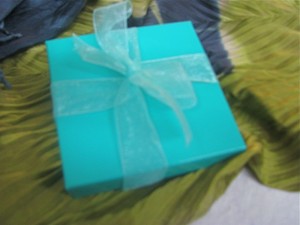 Inside was this pendant. Since I do not like chokers, she added the lovely crocheted ribbon. It also has a copper wire, if I want a different look.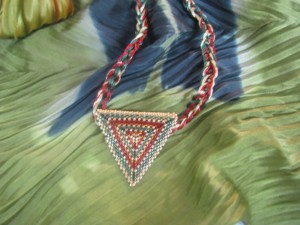 From Shibori Girl, Glennis Dolce, I ordered a bag of shibori scraps. What a deal. there was a whole scarf in the bag. You can see a closeup under the pendant.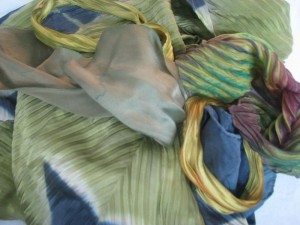 Mr C survived his surgery. It was a long and arduous procedure to pulverize the two large stones in his bladder. Then they did a rotorooter of his prostate. It is usually 2 hours, but it was a little longer than 3 hours. He spent one night in the hospital and came home today.
Scooter was having some tummy problems, but seems to be getting better. I have decided that Scooter and I are good at making messes and Mr C cleans up after us. I make my mess in the kitchen. Scooters messes will not be spoken of.
I really need another good night's sleep. I need to spend the week-end getting green flash done and I also need to get the next 12 X 12 piece done by Wednesday. If I have no interruptions, I think I can do it.
Steph left tonight for Portland, ME. She and Maria will be signing their new book and shipping them to those who have preordered. The new book is a Year of Evenings. You can see details here. Jack will be able to take care of M & M since she will be back on Monday night.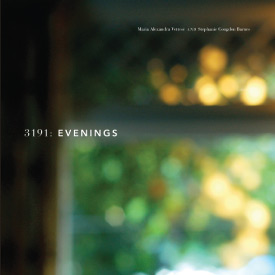 That is it for tonight!!