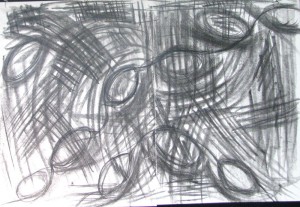 Today, I persevered at the working with flux nonobjectively. Above, is the first assertive drawing. I place the 3 ft X 4 ft paper on the wall and then attack it with charcoal and crayon. I enjoy this part. Next, is the obliteration with white paint. I was working with lines and pods, today. All images are clickable.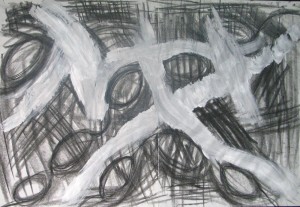 Then, I went back in with charcoal and crayon – making more marks.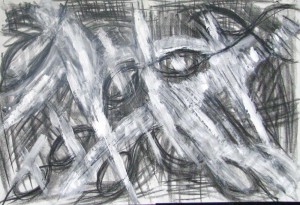 I added more paint and more charcoal. This was the final piece with a detail, following.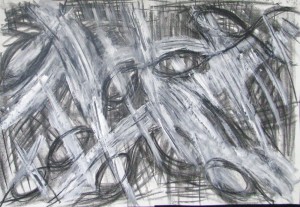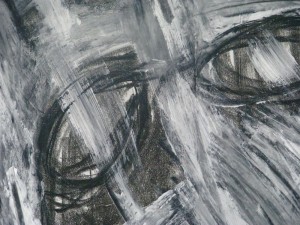 I did another, smaller piece. The first drawing: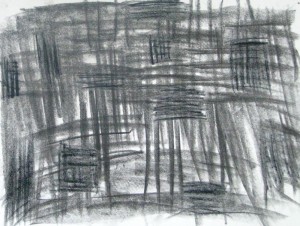 The obliteration:
More drawing: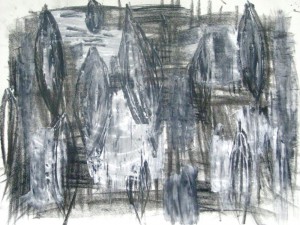 And the final piece after more paint and charcoal: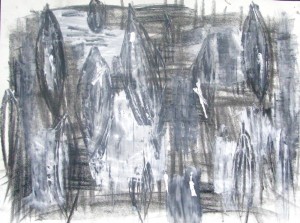 The next workshop in the book is objective drawing.
Look what I received in the mail yesterday. I was the recipient of this lovely postcard made by Dale Ann Potter when she did a drawing after reaching her 500th follower for her Facebook fan page.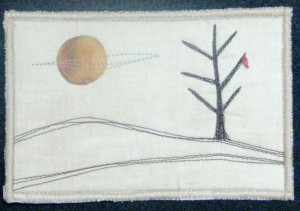 We had a typical November day — rain, sunbreaks, and more rain. Mr C, Scooter and I got caught in a pretty good down pour this morning. My new umbrella from Lisa came in very handy.