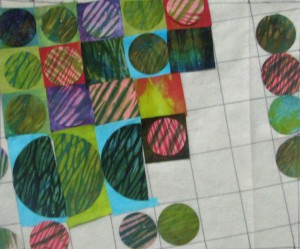 I have made some progress on this piece. I also made a mess in my studio, auditioning my hand-dyed fabrics for the background. Everything is pinned on the design wall so it is still very much a work in progress. I think it will be a fun piece and the quilting should go very quickly on this as I will do simple lines.
I spent a lot of time today moping around, not feeling very good. I am dealing with the clogged sinuses and vertigo. I also think I am having some problems related to a change in my thyroid medication. I have taken dessicated natural thyroid for years and the lab that made it can no longer get the stuff and has changed the formula. It is a big deal for those of us who found relief from the natural type. I can barely get out of bed in the morning and I am freezing cold all the time even with layers of clothes. I took a nice long walk with Scooter in the sun today, which made me feel better.
While moping, I got a quite a bit of hand stitching done on the silk circles. I am really loving that piece.
I bought some black fabric at Walmart (ugh) the other day. It discharged with chlorine to this very lovely color. I have to try it with thiox, now.