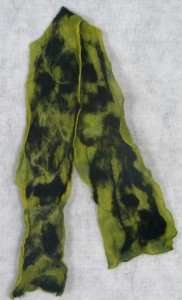 This morning, I got to have change my routine and try something new. One of my Trinity friends has fallen in love with felting and taken some classes. She taught a workshop at the cathedral this morning. We did wet felting, known as nuno. We used a silk chiffon as a base and felted wool fibers to it. I took a scarf that I had dyed with citron and black.
Here is it with black, yellow and green fibers and spritzed with water on bubble wrap.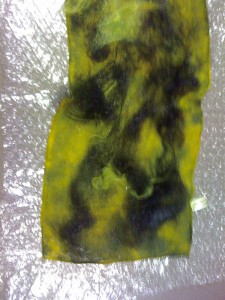 The first step is to lay a synthetic fabric over it and start massaging it to meld the fibers.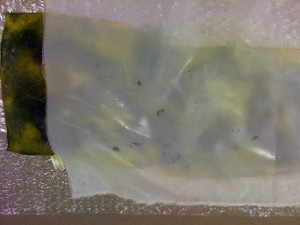 Once the fibers are attached…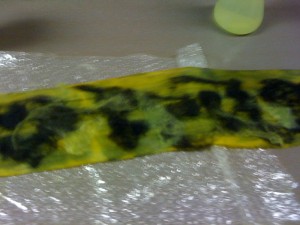 and coming through the back…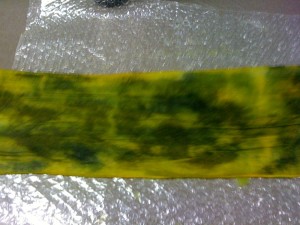 the next step is to wrap the whole thing around  section of swim noodle and rock and roll it several times.
(By now, I want to take of my long sleeved shirt and take a cold shower. This is a very aerobic activity.)
The final torture for the scarf is to fold it and place it in a plastic bag and start whacking it on the table or floor. Then, take it out, refold it and whack it again!!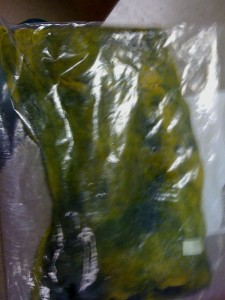 After rinsing in hot and cold water. It gets wrapped in a thirsty towel to remove the moisture.
Here is a detail of mine: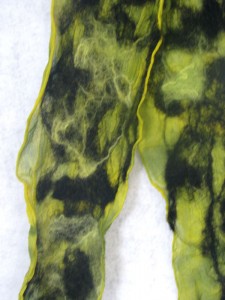 I really like the possibilities of this type of felting, but my hands and wrists really hurt tonight. I am not sure that I could do very much of this.
This afternoon, I finished the fusing of my shibori circle piece. I hope to get the back on and start quilting tomorrow. I spent a lot of time this evening stitching on the silk circles.
I had some good news. I noticed that my Panasonic iron was slightly unplugged which was the reason it was not working!!