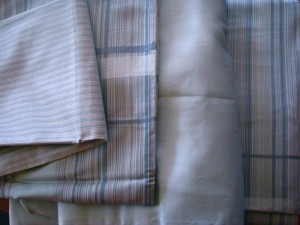 I had a Macy's coupon and some credit at the store, so this morning I did a run out to Macy's Home Store. First purchase was a new skillet for the kitchen. Next, I browsed the bedding department as I was on the hunt for a new duvet cover for our bedroom. We used to have a Calvin Klein duvet cover that I loved -high thread count and super soft and luxurious cotton. When we painted the bedroom, I moved the blue set to the guest bedroom. Above is the duvet cover and a new set of sheets and pillow shams. Every thing was on sale and I still got the 15% off. I was in and out in half an hour.
Our bedroom has one brown wall and the remainder in a color called foam — it is a grayed blue green color. I bought this fabric and made curtains. That was over 2 years ago.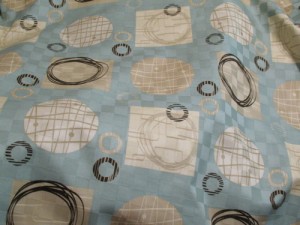 We bought an inexpensive brown duvet cover at IKEA, but it has never made us happy. I know I am going to love sleeping with my new bedding. I have to wash and dry it and then ahhhh!
It was another glorious day here in Portland. We went to our friend, Kay's, birthday party in the hills above Lake Oswego with a spectacular view of snow covered Mt. St. Helen's. She bought 4 different cakes from a really great bakery near us. I took a photo with my iPhone and after trying to transfer the photos to my laptop, iPhoto froze and I lost them. They were beautiful and delicious.
I also had a photo of a  sign outside a church that I wanted to share. It said – Lord, save us from your believers. I like whoever attends that church.