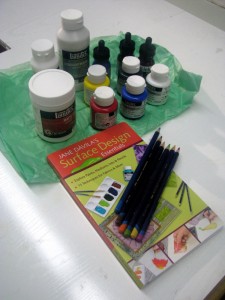 As I mentioned yesterday, I have been on a whirlwind of activity since January — working on the Twelve X Twelve book and challenge, creating my Bird's Eye View quilts, and most recently, finishing up Mother Lode. There have been lots of other things taking up my days, and  you know, it is all good. For me, at my age, to be on this path is just plain fabulous. Now,  I am contemplating starting the next pieces that I need to have done by April; and more for May.
Today, I sent Sunset Composition off to NC for the PAQA South Illuminations show and I burned a CD of Mother Lode and sent it off. It was nice to tick off some things.
The photo up there is the Tote Tuesday goodies from Jane Davila that I won in the auction fundraiser for the American Cancer Society. It arrived today, and I am looking forward to checking out Jane's book, Surface Design Essentials. I have never used Liquitex products and that will be fun to try.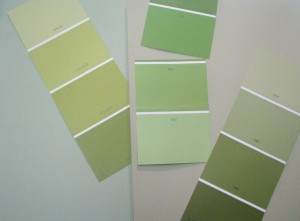 Here is an assortment of green paint chips. That is a lot of green variety. Earlier this year, we painted my office and now  it is time to finish the hallway and my studio. I am thinking I would like a green paint. The Marmoleum tile has alternating green tiles. The  color on the left on the bottom is closest to the tile. It is a nice soothing green and plays nicely with the turquoise in my office. I wish I could have one of those citrusy greens, but, I have to be sensible.
Tomorrow is a big day out and about. I have to preside at the Columbia Fiberarts Guild and luncheon tomorrow, and then, we are having our first ever Portland area SAQA meeting in the afternoon. The Oregon group is going to have a show: it has been a long time coming.