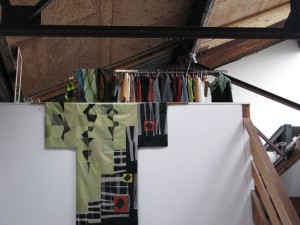 Today, I enjoyed a full day of visiting textile artist studios in the East Bay. We left the hotel at 9 am and returned at 5 pm. Above is a photo of Ana Lisa Lindstrom's live work space. She no longer lives here, but she could.
Here is a sneak peek at one of her gorgeous art to wear pieces that I am bringing home with me. A photo on me later.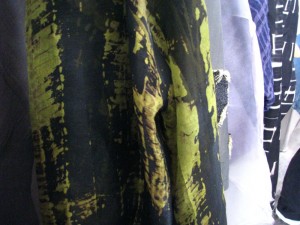 Yoshiko Wada and Jean Cacicedo had work at Ana Lisa's studio, also.
Next, we went to Richard Eliot's studio. Richard has been head of fibers at California College of Art. he says he makes work for himself and does not care if it sells. I like that attitude. These are rusted pieces stretched on round canvases. He meticulously rusts with steel wool to look like real cellular structures.
After lunch, we went to the shared space of Susan Avila and Candace King – both do amazing work. This is Susan talking about her work.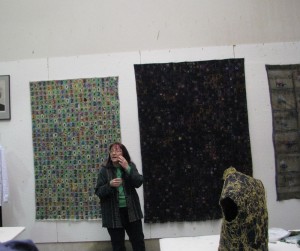 We then stopped at the home and studio of Robin Crowley who is just now getting her sight back after losing it as a result of two strokes. She did not have new work and as a result of her problems, she is looking at new ways to work. Her husband is a landscape designer and their garden was a delight.
Our last stop was the studio of Karen Livingstone who designs and creates fabrics for designers of clothing and home decor. I loved this piece of shibori hanging in her studio.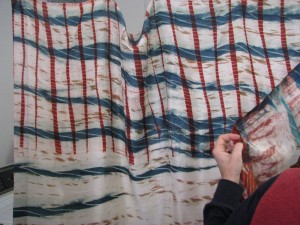 To see many, many more photos of the day's delights, go to my Flickr site, SDA/SAQA set.