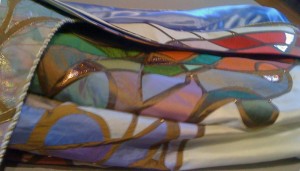 Yesterday, the new Bishop of Oregon was consecrated in Eugene, OR. Today, he was seated at Trinity Cathedral in Portland. At the beginning of the service, he knocks on the door and after some liturgical exchanges, he was led into the sanctuary and seated in the bishop's chair.
For me, the excitement of this event, was to see the vestments specially designed for him and made by Bryan Paatz a Portland liturgical artist. Our last bishop wore very traditional vestments that you could order from a company that specializes in such clothing.  I was not impressed.
When our interim bishop, who was a retired bishop, showed up looking like this, my heart about burst!!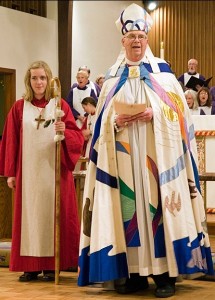 The cathedral commissioned Bryan to make the cope and stole which he wore this morning. It was dazzling. I could not get very good photos with my iPhone, but these will give you an idea. The first photo, above, is a detail that I took when he put the cope on a table in the parish hall.
This is a view from my seat.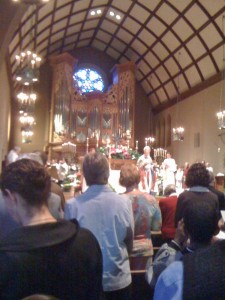 I caught him on the move in the parish  hall. The colors in this are subtle and complex. It is just a gorgeous play of colors.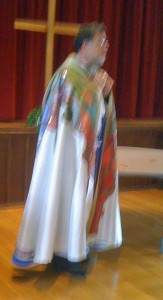 Someone stepped in front of me just as I was about to get a photo of the back. There is a tree of life that is rising out of water.
This is a blurry detail shot of the collar.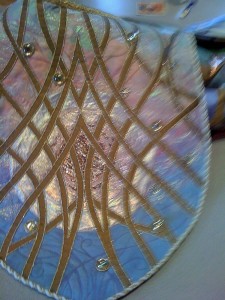 This is what Bryan said about the process:
The symbolism in this design lies not in traditional forms such as sacred monograms, cross, etc. (all church sanctuaries are replete with these), but in a more abstract form.

In working out the visual components of this composition my sense was of light illuminating, water nourishing and color conveying the cycles of the calendar and liturgical year. All properties contained in various church symbols and combined herein the Tree of Life, an ancient symbol in the church.

As with all my work, there are great differences between the design layout done on paper and the actual finished vestments. Often the usage of certain materials and techniques of handling will not occur until I am in the middle of executing a concept. Call it creative license. The textiles and other items I have around my studio will suggest their own place within the composition.

The results of this process are a visual form that is somewhat abstract and nebulous. It is this visual situation that invites the viewer to participate via meditation and contemplation and assigning meaning.
I am hoping to obtain a better photo to share in a future post.
It was a gorgeous day here in Portland. I have a bit of spring fever and basically have taken the day off. Feels good. Had some play time with Scooter in the front yard. Caught up on blog reading. And now the day is about over. Hope your day was full of visual treats and play time, too.