No, I didn't dye this, but I finished the edges while I was waiting for some fabric to soak in soda ash. It is a paint rag that I embellished with black ink. I then cut it up and collaged it with some hand-dyed fabric strips.
I did lots of dyeing of silk scarves today. My first task was to underpaint some scarves without soda ash that will be overdyed after being arashi shibori wrapped on pvs poles.
I mixed up fuchsia, turquoise and lemon yellow.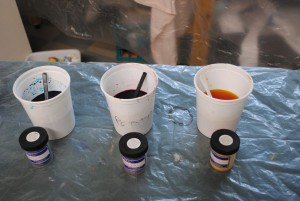 Here are the other supplies that I use: foam brushes, extra containers and some water.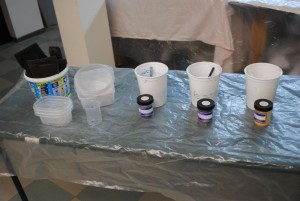 I covered my work tables with plastic and laid out a couple of scarves and spritzed with water.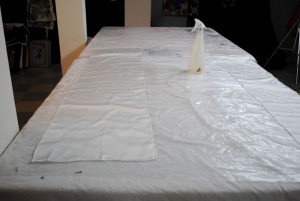 Here are the first two. One is yellow to turquoise. The other is turquoise to purply blue.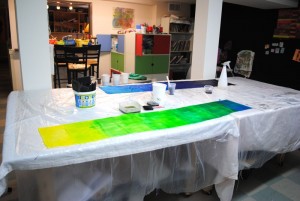 I did two that are fuchsia to orangy red – color is not showing well.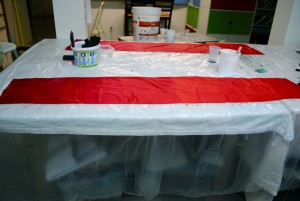 Then I had some dye soup to which I added water to make value gradations.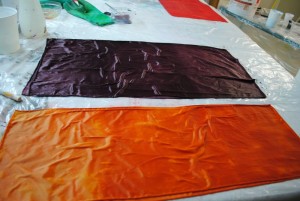 I just love that orange.
I then soaked some scarves in soda ash and did immersion dyeing with some chartreuse and some more dye soup. I still had dye left so I grabbed some fabric scraps from my pfd cabinet and dyed them. They are batching in the furnace room. The dye painted pieces are drying and will be wrapped on pvc pipe tomorrow and over-dyed with black, I think.
I am whooped and want to be taken out to dinner and pampered.