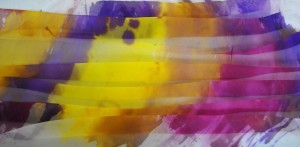 I spent the morning learning the Constant Contact e-mail system and how to import a mailing list for my SDA job. Not that difficult. Got an e-mail formatted and sent. I only had a couple of errors. I will do better next time.
I continued the reorganizing, sorting and cleaning of my studio. It is slow going because I keep getting distracted by things that I find. I also took photos of 3 small pieces and burned a CD to enter the Small Works show at the Main Street Gallery in Groton, NY. Got it mailed and only had to pay first class postage. Woo hoo! It would be neat if I could get a piece in that show because it will be happening when I am in NY this summer. Hope springs eternal.
Tonight, I spent some play time in the studio. I decided to do a monoprint on fabric for my fiber sketch today. I wondered if I could do an Aspen landscape. I painted on glass first.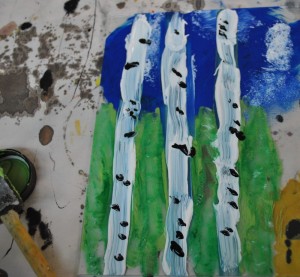 I placed a piece of dupioni silk on the plate and brayered it.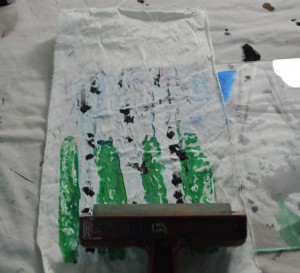 I had  a couple of messes and finally got one worthy of the Sketchbook.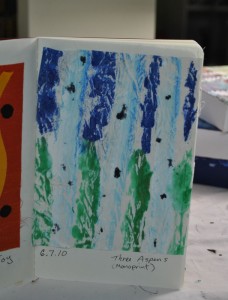 That first photo is the painted organza from yesterday. I wondered what would happen if I pleated it. I like the color play that happens with the layers.