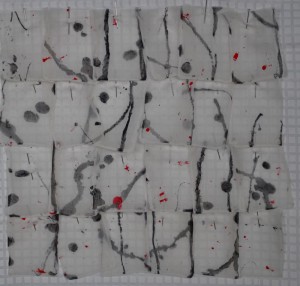 First, I want to say thanks for all the really nice comments about my sunset piece. While I was working on it I thought of other possibilities for the technique. I wanted to see what would happen if I just made marks on organza and cut it up and reassembled it. So that is what is going on here. The marks I made the other day got a splatter of red, as you can see. I sewed the little pockets and have done a preliminary arrangement on a white background. It has a grid pattern. I need to get a solid color. I like the way the lines and dots play. I will paint some more tomorrow.
Here is my latest fiber sketch. I used a few of the leftover purple/yellow pieces.
Mr C is redoing the irrigation in our front yard. Scooter likes hang out an supervise. The original irrigation was metal pipes probably installed back in the 50s. It is nice and rusty so I am hanging on to a few pieces to do some rusty shibori.