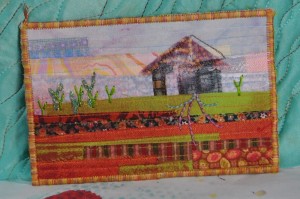 This luscious little postcard arrived in the mail today. It is a lovely thank you gift from Kristin La Flamme. She is walking for Juvenile Diabetes to support her neighbor, and I made a donation.
I have been trying to get it together to get my studio cleaned and in order after the frenzied art making during the last month. I am teaching a shibori scarf dyeing class on Saturday so I started with my dye kitchen. I needed to wash out my dye squirt bottles and mix up some new dye. It felt really good to get in there and reorganize and sort and purge.
The beautiful day was marred by my worry for my sister and my friend, Dee, who often comments on this blog. My brother-in-law is losing his battle with leukemia. He was diagnosed a year ago August, and has been a good fighter through many set-backs. However, the leukemia cells are back with a vengeance and he can no longer have chemo. Dee's husband has been in the hospital since August with failing kidneys and all sorts of problems. She keeps us posted on her blog, and each post brings me to tears. I know that this is an emotional roller coaster for her.  I am at an age where the people I know and love are more prone to these things, but it is still difficult.
My sketchbook is almost filled to the brim. Here is my latest sketch. The pink and green appealed to me for some reason.