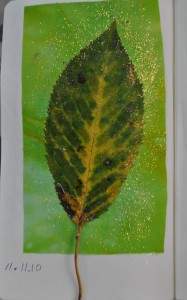 I had a very nice and relaxing day. My STASH group met at Terry's and she made us a yummy lunch of Beer Cheese soup, homemade bread and salad. I got to see her beautiful Twelve X Twelve piece with the real leaf. Click here to see it. Terry said she thought it was a Cottonwood leaf. The back story is that she said she could not get gel medium or glue to stick to it to preserve it. I had heard someone say they used Golden gel medium to preserve leaves.
For my fiber sketch, I decided to give it a try. I grabbed a leaf from my studio patio and used gel medium to attach it to fabric and then globbed it over the leaf. I think it worked quite well. I sprinkled it with some gold glitter for a finishing touch. Before I send the sketchbook back to Brooklyn, I will make sure it is not falling apart.
I have been stitching away on my parallel universe piece.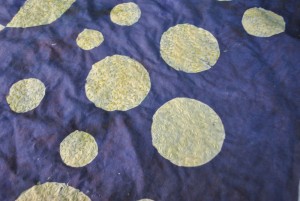 I am stitching the largest planet in rainbow perle cotton. So, I am getting close to having half of the hand stitching finished. Then, I have to select embroidery thread for the parallel universe.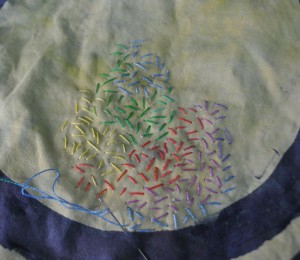 I also made some progress on straightening up my studio so that I can find space to create some new cloth to play with.