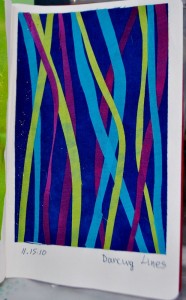 That is how I feel most days of late. I get up thinking I will really accomplish something today. By the time I get my mundane tasks done, catch up on SDA web work, read blogs and Facebook, it seems as if the day is gone. Part of this dallying is due to my constant worry about those I love who are dealing with problems.  I can't seem to get into a real creative groove.
Tonight, Mia and Miles are spending the night so that Steph and Jack can hear their friend, Tift Merritt sing. She was Steph's maid of honor back in North Carolina. Scooter was so happy to see them. He kept sneaking down the hallway to their bedrooms. He usually never goes back there.
After I got them settled for the night, I went down to finish my experiment with deColourant – a discharge agent with added color.
I cut some shapes with freezer paper and added the stuff. The blue is a spray, the copper is a metallic and I used a clear spray on the right side.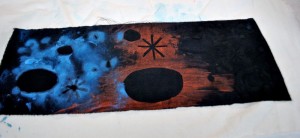 Here is is after it dried (with some help from the hair dryer) and was ironed.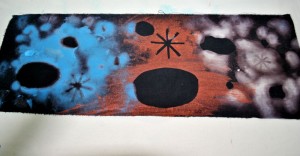 Here is the back side.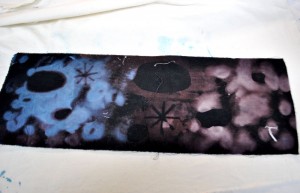 However, here it is after I washed it. Whoops! What happened to the blue? I wonder if I should have let it dry longer?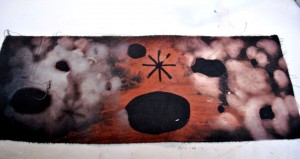 I like the effect that the spray gives. I think I need to do some more research and experiments.
I have only two pages left in my fiber sketchbook. I am going to come up with another regular practice. I like that I can come down to the studio and accomplish something in short period of time. It is nice to have something done!!