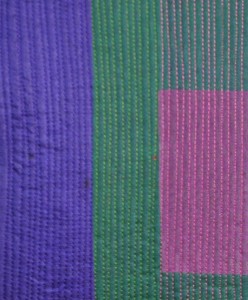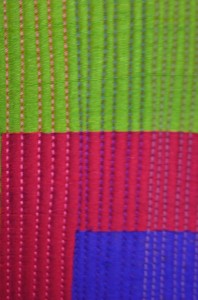 I finally broke through the morass that was holding me back from getting any work done. It is not earth shaking or very imaginative, but I cut, fused, sandwiched and stitched up two possible pieces for the next Twelve x Twelve eggplant  color play theme. The three colors are eggplant, wine and emerald green. I have posted a couple of sneak peeks. The top piece is silk organza and the other is silk dupioni. None of the colorways is perfect, but I am trying to have fun and get as close as I can. I may do a couple more pieces until I feel that I have the right combination of colors.
Another plan that I have this year is to find artists whose work speaks to me and to find out a bit about them. I recently came across the work of Beatrice Mandelman (1912-1998). She started her career in New York, but eventually settled with her husband in Taos in  19944 where they were part of the art scene. Here is photo of her at work. I was intrigued that all of the photos of her working show the work on a table rather than an easel.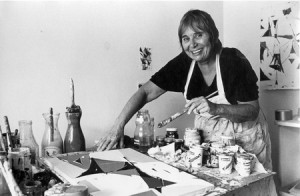 Much of her work is in large, bold, colorful amorphous  and wonky shapes.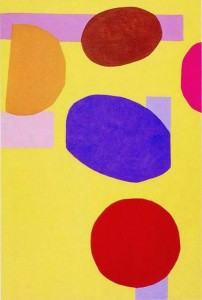 Untitled from the Space series: 1972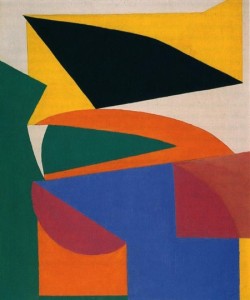 Blue Moon; undated, 1960s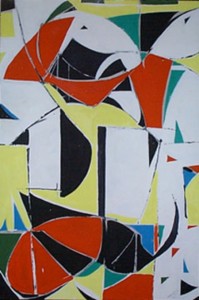 Jazz II, 1986
I love her fearless use of color and the shapes that are repeated.
The following is from and article in Art & Antiques Magazine, Dec/Jan 2011
Despite Mandelman's considerable distance from modern art's most active centers, her work is noteworthy for its strong affinities with certain artistic developments of its time. Much of it is a fusion of post-Cubist, gestural-abstractionist techniques; much of it is also a record of her experiments with bold, often primary, colors and ambiguously emotive forms. Mandelman's art could be quiet and meditative in light-toned compositions featuring gentle washes of layered-on color or boisterous and rollicking in paintings like those of her late-career Brazil or Jazz series, with their patches of black and bold, solid hues.

In the 1980s, Mandelman said, "I'm an original. I broke all the rules. I'm using a very primitive language—squares, circles, triangles, primitive colors. And I made a very sophisticated art out of it." Years later, she added, "I don't have an external story in my paintings, and that's difficult for people to accept."

Mandelman had a strong sense of herself and her achievements, even if big-name success eluded her during her lifetime. In 1971, after a Taos gallery presented an exhibition of work by women artists that was emphatically ignored by the media, she quipped, "If we'd thrown our bras into the Río Grande, we could have gotten all the attention we wanted." Later on, she told an interviewer, "My own painting turns me on. I feel it in my heart, the same feeling I get when I hear good music….I'm trying to work from chaos into order, stripping away, using the basics; that part is intellectual. We're all different, but I think all real artists are working toward the same thing."

"What's that?" her questioner asked.

Mandelman replied, decisively, "Freedom."
That last paragraph tickled me. She was definitely a woman who knew herself and with a wicked sense of humor. You can read the whole article here.