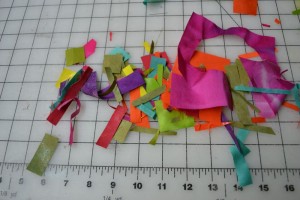 I decided I needed a bit more color in my life. These are the trimmings from the silk that I was using today. I am making a second more colorful piece for the chartreuse colorplay. This one will showcase how great a neutral chartreuse can be. It was a tedious fusing process, but I prevailed. It  is ready for quilting tomorrow. I am still mulling over how to quilt the Klee castles. I think I might have to try out the free motion foot on my new Janome. I am thinking of doing an all over spiral design.
I am feeling almost back to normal today. I went to visit the vampire early this morning. So far my blood work results have been very good. I am always happy for that.
Tomorrow is Steph's birthday. I was hoping to take her out to lunch, but she is doing library duty at M & M's school. I feel the need to get out of the house and do something social. Maybe I will go shopping for some much needed new walking shoes. My Keen's are starting to show the wear and tear of daily walking.
My Indigo Moons sold on E-bay for $102.50. I was a bit disappointed. I was hoping to donate more than that. The buyer is a Quilt Art List friend. I am happy that it is going to someone who will appreciate it.