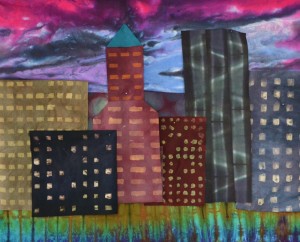 I have not done much cutting but I have folded and placed my building fabric to construct a cityscape. Isn't that sky fabric cool? I have been wanting to use that and I think a Portland sunset is perfect. I have some tweaking to do on this, but I think it is coming together.  I hope to get it fused and start the quilting after STASH meeting tomorrow.
I have been dorking around so much this winter that I have forgotten how productive I can be when the need arises. This morning I knew it was time to make a list!
I had an appointment with the eye doctor to talk about cataract surgery. She said mine are not drastic, but because of the problem with night vision, I probably should pursue it because it is inevitable. So, now, I have to meet with a surgeon for the next step.
I shipped Klee's Castles to the SAQA auction and mailed a Twelve X Twelve book to Montreal, Canada. I started the work to get a quilt show entry done with a deadline of Friday. I also got my inventory for the Artist's Among Us art show done and e-mailed.
Tonight, we had to leave early for dinner and class at Trinity so that we could pick up my car which has been in the shop since last Friday. They needed a part; when it came in, it was defective so we had to wait until today for the right part to get installed. Fortunately, I got an extra burst of energy when we arrived home and was able to get some work done in the studio and on the computer.
I have a cool new app for my iPhone called Pano which allows you to take panoramic photos. I took these at the Rhodie Garden a couple of days ago.

This is the bridge that is the entrance into the garden. Click these to see them larger.


Shameless promotion: If you are a member of the Alliance for American Quilts, you can go to their website and vote for my quilt which is #110, Pearls of Wisdom.