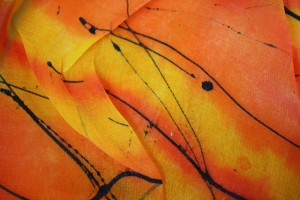 I painted some batting orange and I am using the painted organza to create something over it. I am taking this on our trip and I will be doing copious hand stitching on it.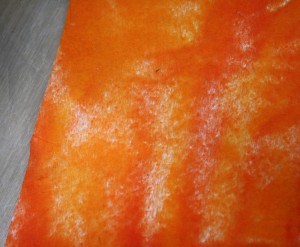 After several false starts, I finally made some great progress on a secret project. It, too, will get lots of hand stitching so it gets to travel with me.
I have been getting studio work done every day, doing a lot of SDA database work for the new website and also getting ready for the visit back east coming up. Yesterday, I went in for some nice new red color on my hair. Today, Mr C and I went shopping. He got a new black sports coat and Keen shoes. I bought some red shoes to wear with my gray silk dress for my niece's wedding.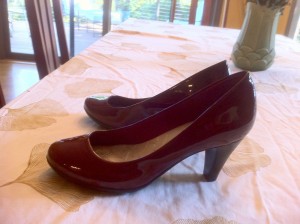 I don't usually wear a heel this high, but I really like these and they were quite comfy. I am so excited that we are spending a couple of nights in NYC — wish we could stay longer.
Tomorrow, our new natural gas grill arrives so I hope I can get some photos of the finished breezeway. We are really enjoying balmy evenings on the deck.