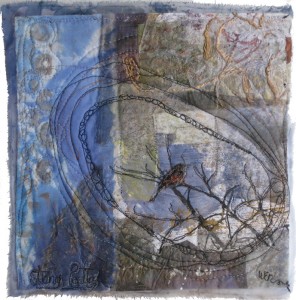 I am so happy that I was able to purchase this lovely piece, String Poetry, by Wen Redmond from the SAQA auction. I have admired her work for a long time.
I was at guild this morning and then realised that I needed to ship a quilt to LaConner Quilt and Textile Museum by Saturday — oops. I had lost the e-mail with instructions, but Kathleen, the curator, sent me every thing I needed, and I dropped it off at Fedex and went to the Farmer's market. When I got home, I checked in on the auction and saw Wen's quilt sitting there without a buyer. I was thrilled to have a chance to purchase it. I hope to pick up one more this year.
I have put my text quilt on hold for a bit and am rehabilitating another piece. I will share what I am doing tomorrow.