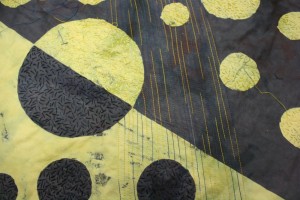 I finished the seed stitching on this piece and have been working on the machine quilting. It is very slow going since I have to stop at each circle and then start again on the other side. It means stopping periodically to bury threads. I don't normally work this way. It is tedious and may take as long to do as the handstitching.
To refresh your memory, I discharged this piece about a year ago. I used a freezer paper template and the two sides are in reverse and upside down. You can see how I did it here. I called it waking up in an alternate universe. It has taken me a year to seed stitch each of the planets and moons.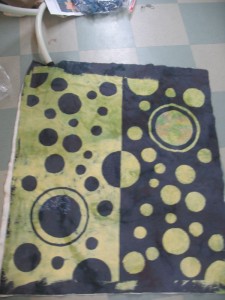 I am using a blue and yellow variegated thread to machine quilt in diagonal straight lines. I am liking the effect, but it is tedious.
So, that is pretty much what I have been up to for the last few days! I am determined to finish this.
Please come back tomorrow because I am going to be giving away something to one of my readers.