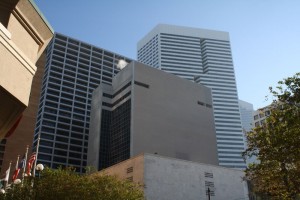 I love urban architecture and Houston has many modern buildings. It seems as if the whole city is brand new in the area of the convention center.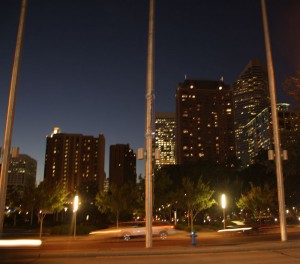 This is a shot at night. We were not that far from our hotel so we often walked back and forth to the convention center.
These trees with blue lights captured my interest. As did the red umbrellas hanging in the Pavilion where we ate dinner one night.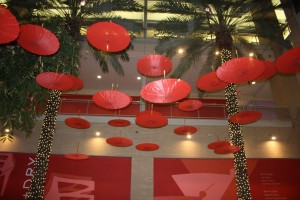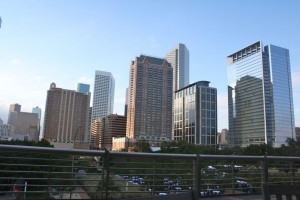 This photo was taken from the outside deck on the second floor of the convention center.
I took some photos in the quilt show for friends who couldn't be there, but I didn't take photos of other quilts to show. One of my favorite pieces in the show was the little fiber village by quilt artists that Kathy York organized.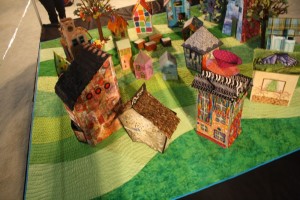 Terry Grant and I spent some time trying to match up the houses with the artists that we know. We were very successful except for the one's whose work we were not familiar with.
I did not do much shopping. i just don't need more stuff!! This is what I bought:
A little bag of gorgeous scraps from Shibori Girl. I was so happy to meet another online friend.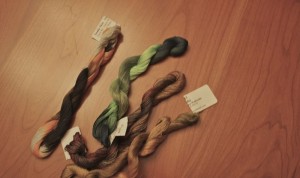 Some gorgeous hand-dyed thread my Artfabrik. It was great to see Laura Wasilowski again and meet Frieda Anderson.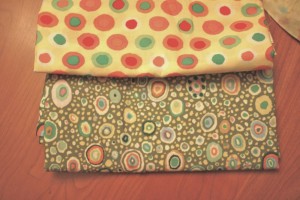 I needed some more dotty circle fabric for Gwen's quilt and I picked up these two — perfect!!
Here is one last shot of some of the twelves waiting for our table for dinner on Saturday night.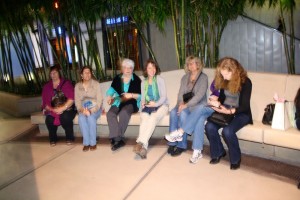 i am still enjoying the wonderful memories of being with these great women. The Houston experience has given me so much joy and energy to jump into art making. Life is good.