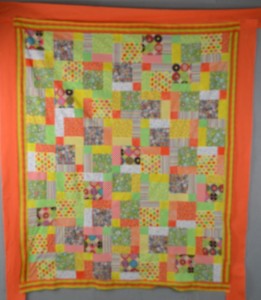 This is a bad photo of Gwen's quilt. I finished piecing it yesterday. This morning I ran out to Mill Ends and found a couple of fabrics for borders. The inner border is a stripy print with yellow, orange and green and the outer borders are a pin dot orange. I love the sunshiny aura of this quilt. I was too tired to sew the outer borders on tonight. I hope to get that done tomorrow and then I can sandwich it and get it quilted.
Mr C had a meeting in Corvallis today — sort of a job interview with a start up company run by a former employee of his. Looks like he might do some part time consulting for them. He was gone all day and I must admit to being a bit lonely. Of course, Scooter kept me company. I took him for two walks. It was a gorgeous sunny day, a bit brisk, but beautiful none the less.
I took Scooter to the Rhodie Garden. We hadn't paid a visit for some time. The water was so sparkling from the sun. Here are some photos that I took with my iPhone.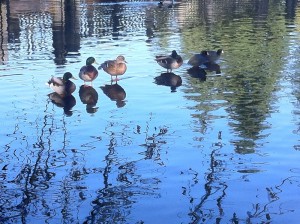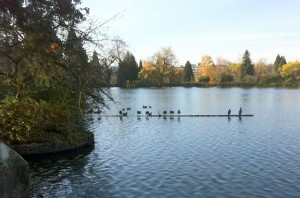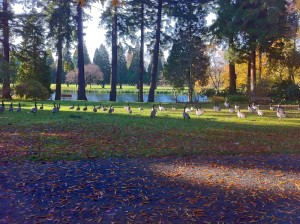 A Gaggle of Geese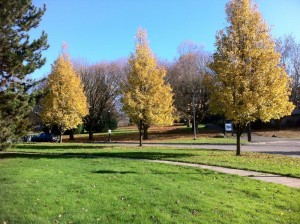 This photo is of the triplet trees on the Reed Campus.
Tomorrow night is the opening of our annual December Trinity Arts outreach art show and sale. This year, we are featuring art from Cuba to benefit the Center for Cuban Studies and its art programs for children with Down Syndrome in Cuba. We are having a fiesta with Cuban music and food. My friend Diane and I are going to try out our new virtual terminals for Art Sales. We couldn't use the Square Up because the funds go in to the church account so the bank set us up with their system that works with iPhones and iPads.