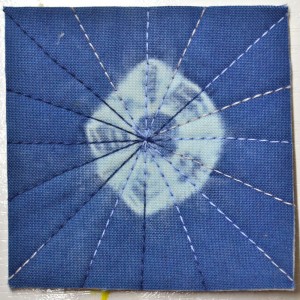 This is today's 3 x 3 – a bit of indigo shibori, machine stitched. Here is yesterday's –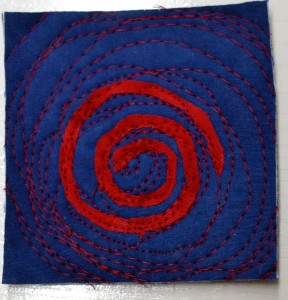 Robert Genn's newsletter popped up in my e-mail just a bit ago as I was downloading photos and getting read to write this post. It is titled, "Second Breath"
A "second breath" is a restart of a work after getting a second opinion from yourself. I made up that line while I was walking this morning–so it's my lead-in to an overdue letter on methods of reworking half-finished or unsatisfactory paintings–and what dangers may be lurking.

You need not consider the time you've already wasted, the cloud of your ego, or the riveting need to keep some particular part. This is business and you need to make the business better. You need to ask yourself, "What could be?" Remember the part about not being hung up on keeping something? It's when you remove that aircraft carrier from the foreground and replace it with an albatross that you start to get somewhere.
I have posted just two of the paragraphs. This was meaningful to me because I took a second breath today. After I printed my blended photos on organza, I was not happy with how they looked on the fabric background that I painted. Truth be told, I didn't like the background after I started adding more stuff to it.
I want to evoke the feeling of the four seasons in our neighborhood as Scooter, Mr C and I walk it each day. I decided to do a fused patchwork background, using colors that I see in the four seasons. It did not take me as long as I thought to cut and arrange the pieces. I put Mistyfuse on the batting. I will fuse down the pieces and then stich the edges in place. It was too long to photograph the whole piece so here are the sections.
Winter: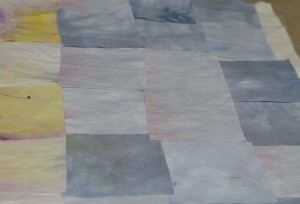 Spring: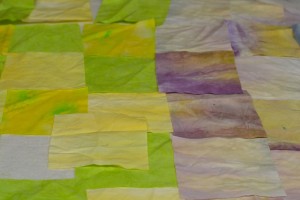 Summer: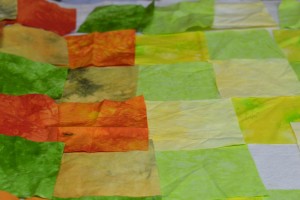 Fall: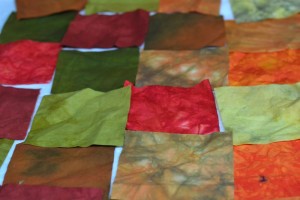 This will be a lot more work for me to pull off, but will make for a richer piece. After stitching, I will screenprint the images that I have used to make thermofax screens. Then I will fuse the organza photos.
I have large heavy duty freezer paper sheets that I iron to organza and print in my large Epson 2200.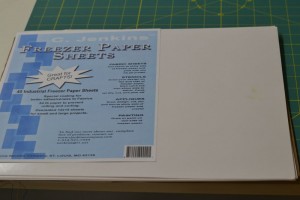 I spent most of yesterday fighting the printer, cleaning the print heads, adding new ink cartridges. I was still getting horizontal lines when I printed on plain paper. After consulting my expert friend, Gloria Hansen, I found I needed to set the printing for high resolution and it worked perfectly.
Lent started yesterday. I don't like to give up anything so I am doing something. I am wearing my pedometer and attempting to walk 10,000 steps a day. I set a goal of 8000 for the first week and will work up to 10,000 by next week, I hope.