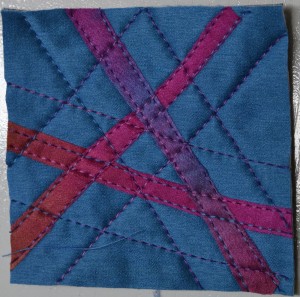 I almost missed my 7th Blogiversary which was the 3rd of February. Seven years is a lot of blabbing and creating and making new friends. To celebrate, I have a gift for one of you. Just leave me a comment. I will do a random drawing and someone will receive this hand dyed silk scarf with a subtle shibori design.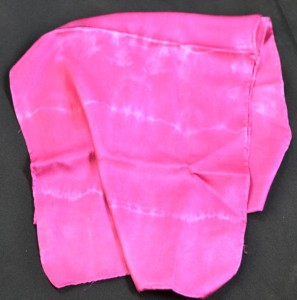 It was a busy week-end. On Friday night, we went to the opening of Lisa's show with her friend Trish Grantham — Wild at Heart. She sold a piece – always a good thing. On Saturday, she hunkered down and did many  more illustrations for the cookbook. On Saturday night, she, Steph and I put on a delicious meal for vegans and omnivores. Trish, who is a vegan, joined us. It was a fund evening.
Lisa left this morning and after church, I worked on my desktop Mac which had a disk problem  — I couldn't open any files in Word or Photoshop – eek! I was able to repair it and everything is working again. So, I didn't get much else done today.
Up above is yesterday's 3 X 3 from silk scraps. Today's is one of the stencil prints that I did with white paint on hand-dyed cotton.
The Twelves hatched a plan to gift Del Thomas with a 12 X 12 quilt from each of us with nature as the theme. We have kept them under wraps until now. Del was honored to have a gallery in the Visions Art Museum named after her. For the unveiling, they are displaying 40 of the 12 X 12 quilts that she has acquired. Some of ours are amongst those on display. I have previously posted my quilt, but did not say what it was for. Here it is, again, California Poppies. I am thrilled to have it on display.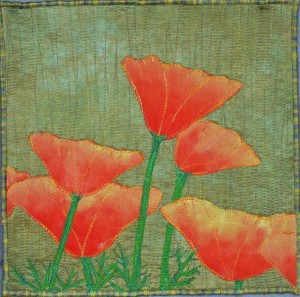 Don't forget to leave a comment if you would like to have a chance to receive the scarf!