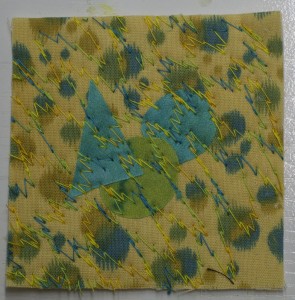 Not much to report. It was a nice day yesterday which I seem to have spent on the computer doing SDA work and also did 3 loads of laundry. Then I got hit with the seasonal allergy head-ache. I went to bed with it and woke up with it. I am doing all the usual things to combat it and I do feel better tonight.
I went to church this morning and this afternoon, Mr C and I went to the mall. I hate the mall on the week-ends, but decided to keep him company. I realize I need a change of clothes for our trip next week. I found a pair of skinny leg jeans that look pretty good and feel great. I also got a big chartreuse knit top to cover my big butt!!
No baby, yet. I am sure it can't be much longer.
Here is today's 3 x3; yesterday is at the top. I had fun using some of my prints.