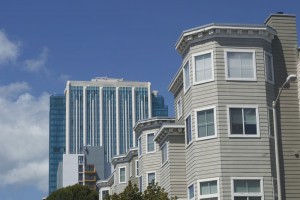 It was another sparkling,  yet brisk day in San Francisco. I am still feeling like a slug as I deal with the sinus infection. I felt lousy when I got up this morning and was moving in slow motion. I finally got my rear in gear and felt better by late morning. I went down and helped Jayme with Paige so that she could get ready to go to her first outing with Paige to a neighborhood group for moms and new babies.
Mr C and I went to a new restaurant a block away and had a delicious brunch. He had  baked eggs and I had a quiche with leeks and black trumpet mushrooms. Then, we went back downtown to go to the Contemporary Jewish Museum to see the show Do Not Destroy. Lisa was invited to participate.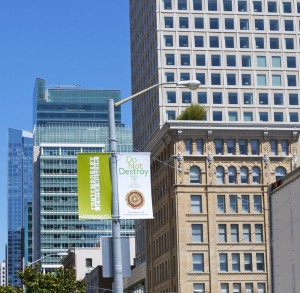 You can see her piece, here. It sold the first night.
Here is the plaza as you enter the museum.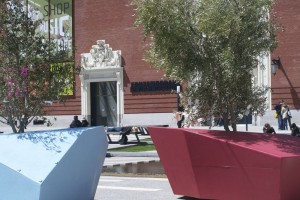 And some of the architecture in the area.
I loved the show because it is all about trees. I love trees and tree art. I was especially intrigued by this large work of birches which seemed like a painting from a distance. Up close, you see that is a paper collage. Sheet music, newsprint and other paper prints and photos are collaged for this scene. The faces in the collage give it an eerie sense when you get close.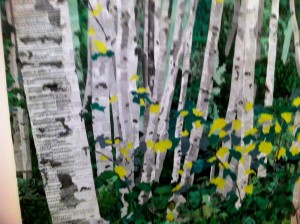 This is a detail shot that I took before the guards told me no photos. Click on it to see the details.
I loved this old door on the church next door to the museum.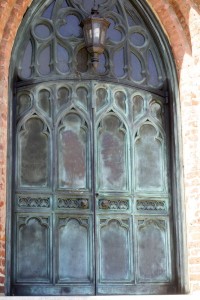 Lisa came over to spend some time with Paige this afternoon. Her dog, Wilfredo, came upstairs to visit Scooter. He was very excited to have company in his current home.
Tonight, we were to pooped to cook, so we ordered pizza. Tomorrow, we start on the next part of our journey. We are going to the Mojave desert to spend time with Steve's brothers and their wives. We will spend the night in Valencia and then drive out to the desert on Saturday morning. We will stop here next week for another Paige fix!!