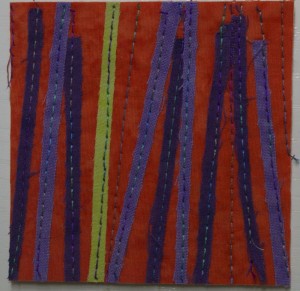 I love orange paired with purple!
I have been slowly cleaning, purging and reorganizing my studio. I have way too much stuff for working creatively. Some of it has to go. Just so you know. I am loving my cloth that covers my print and paint table.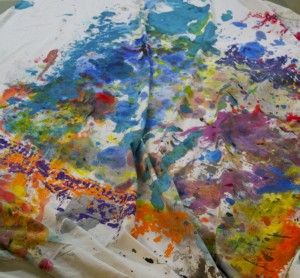 Yesterday was the photography class with other SAQA members. Our instructor, Alan, was a most pleasant guy with lots of knowledge, particularly on lighting our work for photographing. He was not bad on the eyes, either!! You can see his work on his website, here. He was particularly surprised to see our work. He was expecting to see bed quilts. His very attractive girlfriend helped with setting up our quilts to photograph.
Here are Jean and Mary checking the settings on their cameras.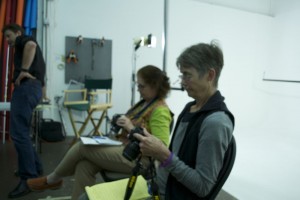 First of all, I will say that I was already doing a lot of what he suggested. Here are some recommendations. Set your camera  to Raw for Image quality. Set White Balance for the type of light you are using. I use daylight fluorescent. We used incandescent in the studio. Set the ISO sensitivity to the lowest setting. On my camera that is 100. Set the color space to Adobe RGB.
You need to use a lens that will zoom in an out. Set it for the highest zoom. On my lens that is 55 mm. Then, he warned us – there is only one place to go now and that is the dreaded manual setting. LOL! He showed us how to set up lights for different sized pieces. He used a light meter to make sure that the piece was evenly lighted. That will be the next addition to my studio, I think. They are a bit pricey. From the light meter reading, you can figure out the f stop setting for your camera and the shutter speed. For my Scooter and Mr C quilt, which I took in to photograph, the fstop was f9 and the shutter speed was 1/8. Then you have to make sure it is in focus. He, of course, said a tripod was mandatory and used sandbags to weight it down so that it would not move at all. I should also mention that we moved the tripod and camera (zooming by foot) to get the quilt in the frame properly. We did not change the zoom on the lens. It stayed at the maximum zoom.
So there you have it – the knowledge that I gained from the class, which I enjoyed very much. We were there from 10 in the morning until after 5 pm. The time seemed to fly by.
Here is today's 3 X 3. A little relaxing hand stitching.