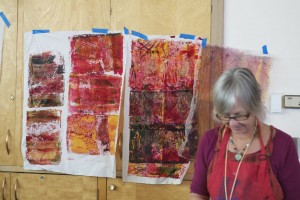 I am one tired little old lady, but it sure has been a fun week. We finished class on Friday with some show and tell. These are my screenprints, before washing with Kerr in front. I did a lot of red black and tangerine, hoping to get some raw material for a piece with a fire theme.
I will post more about the last day of class tomorrow.
Yesterday, I took Kerr out to Bonnie Bucknam's house so that she could see and possibly purchase some of Bonnie's vintage linens. I think two boxes are on the way to Mississippi. Then, we were off to Portland for some fun. We had lunch at a Vietnamese restaurant – yum.
Then, we checked out Cargo, a store with stuff, large and small, from all over the world. They  just got a shipment of fabulous stuff from Japan. Kerr bought a huge, sturdy and well used paper bag that was once used for carrying silk. It is beautiful. It was too big to take a photo. There were antique mulberry stencils.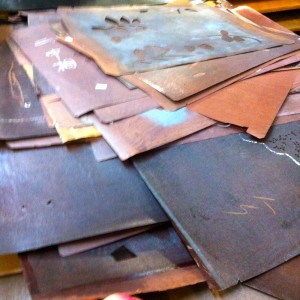 I bought some vintage anime and manga magazines for Mia and Miles and a set of lovely illustrated number cards for Paige.
You can't visit Portland and miss a trip to Powell's Book Store which fills a whole city block. No books went home with her — no room in the suitcases!!
Our next stop was the Museum of Contemporary Craft. We enjoyed the exhibit of Betty Feve's work in clay. I have long been an admirer of her work in the permanent collection. In the lab, at the back of the exhibit, was a community participation project.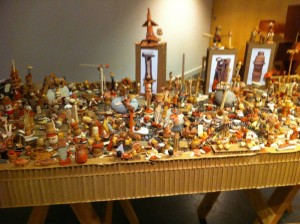 There was clay and other stuff where visitors could make a sculpture for this display. Here is mine: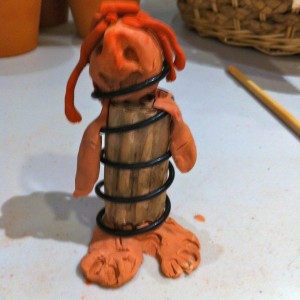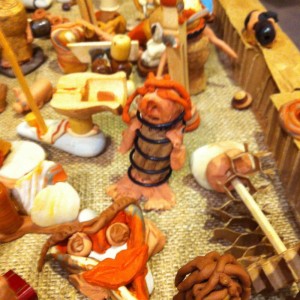 And, Kerr's: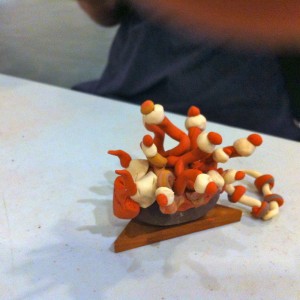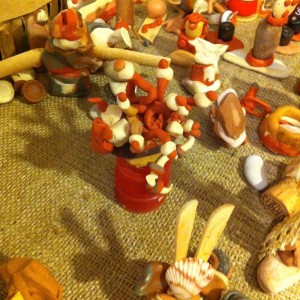 On the way home, we picked up some fresh salmon for dinner and enjoyed a lovely evening on the deck.
I dropped Kerr off at the airport this morning. I will miss her. It has been so much fun to have her around for the past few days. Hope she will come back, again.
Tonight, we had a nice family dinner. Here are some photos.
Artichoke hearts before and after being attacked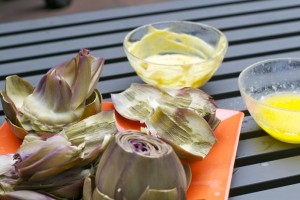 Scooter found a comfy place next to Steph in her cool blue and white shoes.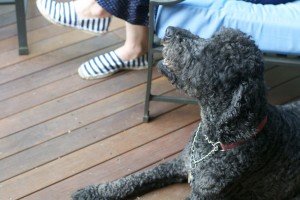 Mia was in her usual spot with sketchbook and pencil in hand.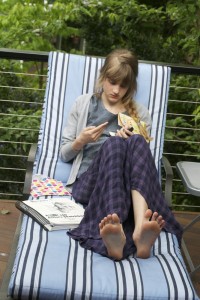 She is officially 2 inches taller than me!!
Miles got his Mom to play Scrabble Slam.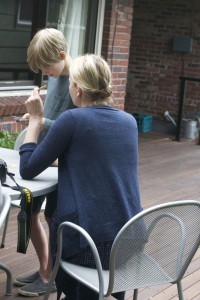 Since it is father's day, I should have gotten a photo of the two dads. What was I thinking? Steph brought this for dessert – yummy goodness.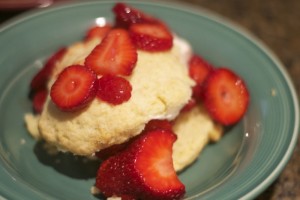 Now, I am off to bed to catch up on my sleep.