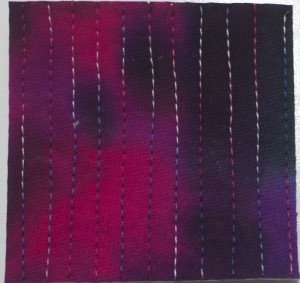 I am not sure why or when it happened, but I now feel so happy in my studio, full of ideas, getting work done and feeling good about it. I used to feel this way, but something happened to me last year — maybe a several things — I don't know for sure. I just know that I am happy and creating again. And that is a good thing.
We had a fairly uneventful 4th of July. It was a perfect day. We took a long walk with Scooter and checked out the end of the parade that our neighborhood has every year. I quilted the air quilt. In the evening, the Barnes family, minus Mia, came for a BBQ on the deck.
Here is the air quilt which I think will be titled, Riding the Thermal.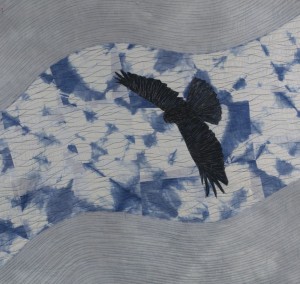 I am in the process of finishing the edges of this quilt and the fire quilt. I decided to do satin stitch edges, but my satin stitch on my Janome is nor behaving. I don't know what the problem is. I have cleaned my machine, changed the needle, fiddled with the tension. Not sure what to do next.
Yesterday's 3 x 3 – up there – is a piece of hand-dyed fabric which I cut and stitched. Here is today's:
You have to love magenta and lime green!!