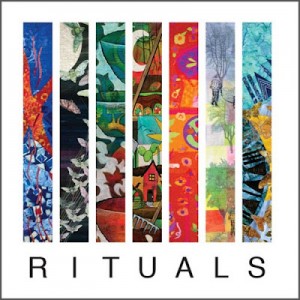 This is the cover of the catalog for the Dinner at Eight Rituals exhibit which will debut at IQF Long Beach at the end of the month. Scooter and Mr C are in the slice that is second from the right!
You can go here and have a peek at all of the beautiful quilts. The show is sponsored by Moore's Sewing in Long Beach and Havels Sewing will sponsor the show at IQF Houston.
It is such a pleasure to have summer ensconced in Portland. I spent most of the morning formatting a huge e-newsletter for Northern California SDA members.
I got down to the studio this afternoon to figure out what was wrong with my satin stitch using the zigzag stitch. After some research, I decided that the acufeed foot might be the problem. I switched to the applique foot and with a bit of tension tweaking, I was in business.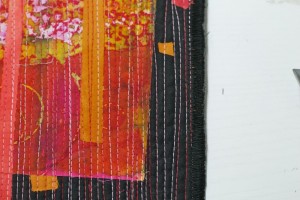 I still need to do the edging for the air piece. I want to print with the deconstructed screen that I made in Kerr's class. It will be nice and warm for batching tomorrow so I am hoping to play with that.
Tonight, I went to a beautiful concert with Mr. C — part of the Oregon Bach Festival. It was a choral concert. The first piece was a Bach Mass; the second piece was A Child of Our Time by Michael Tippett. It was amazing. Here are the notes about the piece:
Compelled by the needless suffering he witnessed in World War II, British composer Michael Tippett created the modern choral masterwork A Child of Our Time. Its story concerns an act of justice in a time of war. But its effect is one of urgency and somber beauty, like the work it was modeled upon, Bach's St. Matthew Passion. Tippett integrated American spirituals such as Steal Away, Go Down Moses, and Deep River in place of the Passion's chorales to reach the deepest levels of our common humanity. Its haunting narrative and rich climaxes embrace both the shadow and light of our collective whole.
We had a great dinner out before the concert. And here is today's 3 x 3.