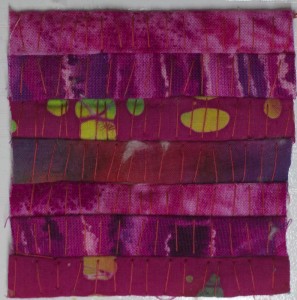 After a good night's sleep and some meds, I felt much better and was zooming around the studio once again.
I had a sudden and enlightened idea about a finishing touch for my myth piece for the Twelve by Twelve reveal on Thursday. I spent the morning working that out. It meant doing a drawing and printing on organza and stitching it to the otherwise finished piece. I am really happy with it. Check back on Thursday for a look at what I did.
I also sewed two sleeves for the air and fire pieces and started getting the finishing touches done on them.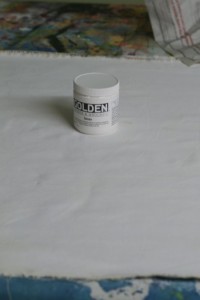 I also painted a big piece of canvas with gesso for a fun project with my STASH group on Thursday. Tomorrow, I have to get some things cleaned up and do some prep work for the lunch that I am preparing for them.
Last night when I went to bed, I felt really doubtful about where I was going with the deep sea piece. In the light of day, it didn't look that bad and so throughout the day, I worked on it bit by bit. Tonight, I got it fused together, and I hope to do some quilting on it tomorrow. I really love the colors in this.

I found this great fabric for the back.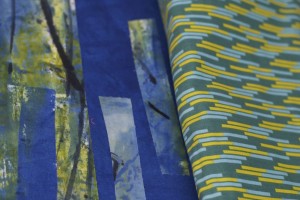 Mia gets home tomorrow from her two week adventure in the wilderness. We can't wait to see her and hear all about the other kids and the adventures that she had.