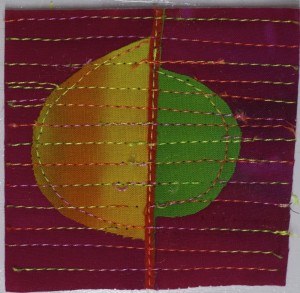 Want to hear a funny story? I have felt kind of lousy for the last two days — achy and a bad headache. This morning when I made coffee, I forgot, (again) to put the pot in the coffee maker. So, we had coffee all over the counter and the floor. We cleaned it up and I picked up the container to make more and what to my wondering eyes do I see? — decaf! Well, no wonder I was brain dead for two days. All better now.
I finished getting my elements quilts ready to deliver to the jurying committee. This meant making a trip to the big box store to get some new lath for hanging rods, screw eyes and picture wire.
Here they are, all packed up with their picture labels, ready to go.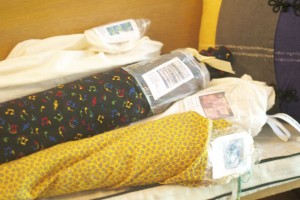 I delivered them at the High Fiber Diet meeting. We are meeting in a new place, much further from my house. I was supposed to meet some friends for dinner at a nearby Thai restaurant. I had to pick up my CSA veggies at 5. By the time I got on the road, the traffic was miserable. I was stopped at a stop light and texted Terry and told her to order me some shrimp rolls. I love technology.
The meeting was great. We had two more excellent presentations on design elements — Rhythm and Underlying Shape/Compositional Structure. I am so happy that we are doing this. It is a great refresher for seasoned artists and excellent information for new artists.
Tomorrow, I am hosting a SAQA parlor meeting tomorrow, and then I think the excitement is over for a bit.