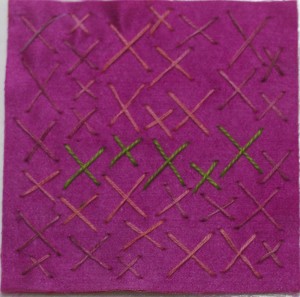 Not much excitement around here today. I vacuumed packed 5 pints of berries for the freezer this morning. I actually spent most of the morning photographing quilts to burn to a CD to make a magazine deadline. I was contacted earlier this month and asked to send in high quality photos of some of my work. Not sure if it will be a feature article or included in a theme article or maybe nothing at all. It is nice to have been asked!
I found out this morning that all 4 of my element's quilts were juried into the High Fiber Diet show which makes its debut in September. That was nice to hear. I was surprised that there were so few entries this year, but I think it will be a good show.
One of my blog readers asked for more information about our hanging system. Our show goes to more galleries than to quilt shows so we need to be able to hang them with whatever gallery system they have. Sometimes, the hanging system has wires on two sides. Sometimes, there is one hanger and the quilt needs to hang in the center.
We use a lath or wood slat cut to the length of the sleeve. Screw eyes are attached to the top edge of each end.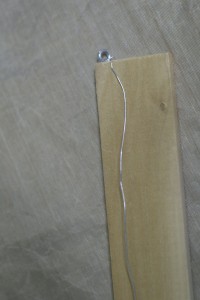 Here it is in the sleeve with a wire attached. For the two part hanging system, the screw eyes can be used.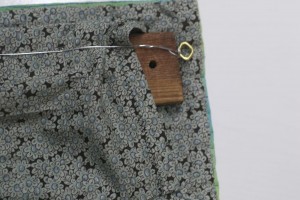 When the quilt needs to be hung from the middle, we attach the wire to the wood, through the sleeve, with staples. Then, the quilt can be hung from the wire without the wire showing above the quilt.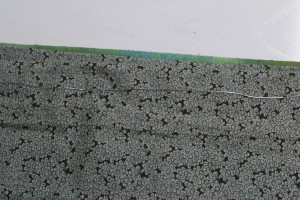 I hope this makes sense!
I have been a bit distracted as I have been watching Season 10 Project Runway. Looks to be an interesting season.