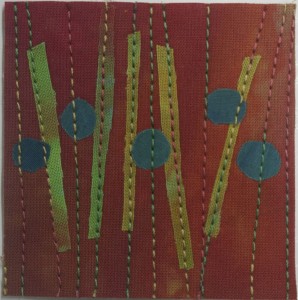 I had a busy day. Worked in the studio. Had a lunch meeting with the co-chairs of the Trinity Artists Among Us 2013 event. We had a very productive meeting. It feels good to get started earlier this year. As I was driving home, I started feeling sick. I had an ear ache, swollen glands and headache.
I tried to ignore it, but I think I have one of those dang viruses that gets you now and then. I did manage to get the Dancing Kelp fused together and on the design wall where I could do some finessing.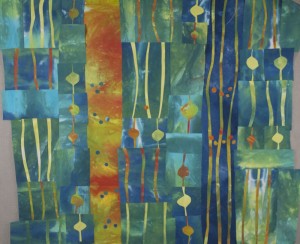 I still have to add a lot of bubbles to areas that need some life. Here is a detail.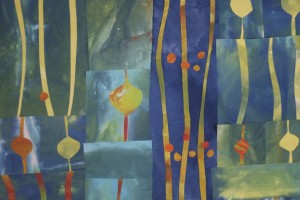 I sewed a sleeve on the Line Dancing quilt which I will submit on Wednesday for Rhythm and Hues. Tomorrow, I only need to do paper work and get my supplies together for the Elizabeth Barton class.
Now, to bed and hope to sleep off the bug.