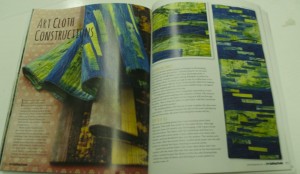 I am pretty sure my friends are tired of hearing about this, but for me this is pretty darned awesome. I have two articles in the Winter 2012 issue of Art Quilting Studio. I received my copy today. It will hit the newsstands December 1. One article is about how I turn my art cloth into art quilts. I also have a tutorial on discharging.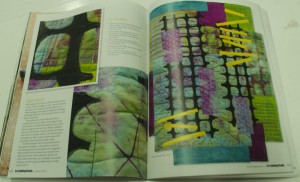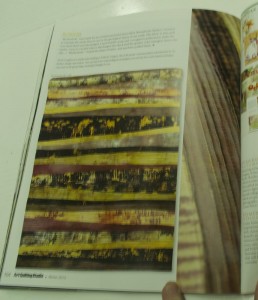 The other article is about my Aspen Quilts.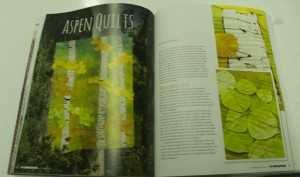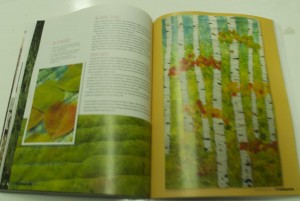 In the back of the magazine is section titled Patchwork where several art quilts are featured. I have two pages there.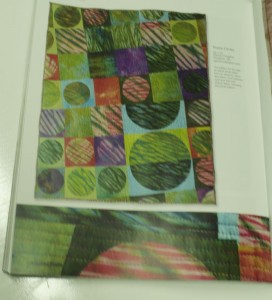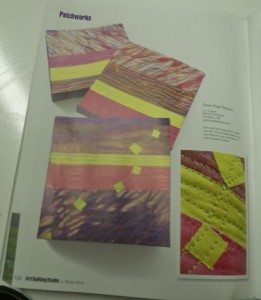 The issue is large and packed with wonderful articles, many of them by friends so I feel that I am in such good company — Connie Rose, Katherine Sands, Rayna Gilman, Kathie Briggs, Arlee Barr, Ellen Lindner, Dominie Nash, Natalya Aikens, Roxanne Lessa, Laurie Brainerd, Gloria Hansen, Clairan Ferrono and others I don't know that well. Ricë Freeman-Zachery has two articles featuring Sandra Meech and Jenny Hearn.
This morning, I had my hips x-rayed and am waiting to hear what it shows. Then, Mr C and I got the Twelve by Twelve Colorplay quilts packed up and sent them on their way to Brenda Smith in Australia.
I still had time to work on the organ quilt. I finished the background quilting and started working on the embellishments. Here is a section of the wood filigree that will be fused in place and stitched.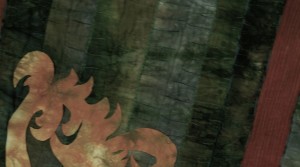 And, here is today's 3 x 3.