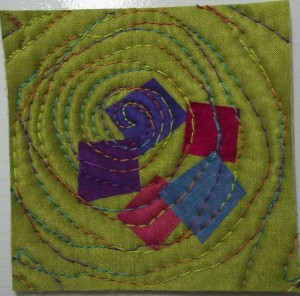 The week-end flew by as we busied ourselves with decorating, cleaning, partying and entertaining. On Saturday night, we attended a party in the neighborhood. We were greeted at the door by our host in a tux and top hat. Our coats were whisked away and we were handed a glass of champagne. We looked around and didn't see anyone that we knew. We were invited to this annual shindig because Mr C is on the Eastmoreland Homeowners Board.
Many people were dressed to the nines and others, very casual. I suddenly saw someone that I recognized, but I had never met him. He is a Facebook friend and the newly elected mayor of Portland, Charlie Hales. We got a chance to chat with him for awhile and it was nice to know that he was such a down to earth guy.  His wife is so cute and really sweet. One of our senators, Ron Wyden, lives in our neighborhood, and was invited, but didn't come because they have a brand new baby.
We met some people who come down from Seattle every year for the party. The champagne flowed and the food was great, but even though a small tent was set up in the backyard, it was very crowded and difficult to get around and meet people. I got into a bit of an argument about architecture with an architect who is on the board. He is an old curmudgeon and does not like modern architecture.
On Sunday, I hosted the first every Oregon SDA meeting. There were 25 people in attendance. Every one brought some food to share. We shared our work and our frustrations with marketing work. Mr C was surprised to see so many young women. I said SDA is not old quilting ladies, and it is one reason that I love it so much. Many of the younger women are in to clothing design and production. One person, from Eugene, brought several of her felted garments to show. Other members got to model them. I wasn't fast enough with the camera to get pics of all the garments.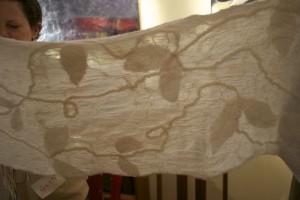 The woman modeling the scarf came with her husband. They have a business making floor cloths that are painted and finished with polyurethane and wax. They had a catalog of their work – really beautiful.
Marci McDade, who is the SDA Journal editor, asked to see my articles in the Art Quilting Studio magazine. She was very impressed with the quality of the publication, the photography and how most of the ads are in the back. I was really happy to hear her positive critique!
Today, I have been working on the sweet themed 12 x 20 piece which will be revealed on Wednesday. Here is a sneak peek at the back.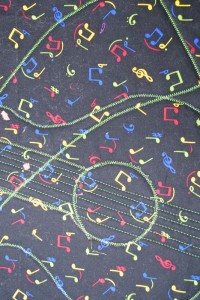 I had fun showing the SDA members my studio and my 3 x 3 pieces. Here are two more from the past couple of days.