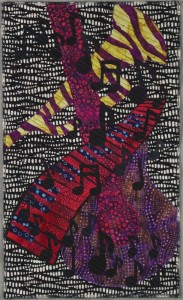 Today must be 12/12/2012 because it is reveal day for the latest Twelve by 12 theme, sweet. You can check out the blog and see what sweet things await you. When Terri announced the theme, I went to the dictionary and found the last definition was:
pleasing to the ear; making a delicate, pleasant, or agreeable sound; musical.
So, I knew back then that I wanted to interpret the sweet theme as jazz music. I stayed with the batik theme, too and didn't have to buy any new fabric. The trumpet auditioned several fabrics before I settled on this one. I had a lot of fun cutting the music notes and placing them. Click on photo to see a larger version.
I found a beautiful hand-dyed thread that I bought 3 or 4 years ago that was a perfect blend for this.
I did simple straight line stitching in a diagonal pattern. The size of the quilt made it a bit awkward to arrange the instruments. This was a fun, no brainer piece to do. I enjoyed it.
Here is a detail:
Here is Tuesday's 3 x 3.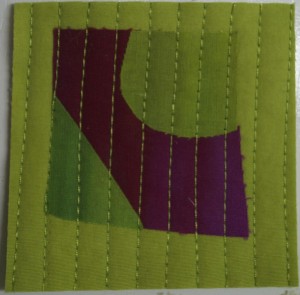 Today, I am going to the Columbia Fiberarts Guild meeting and then out to lunch with some friends. Janice Arnold who does gigantic felted installations is our guest speaker. It should be a great day.