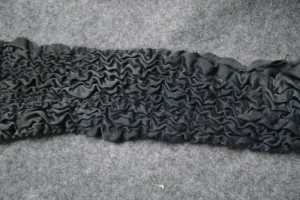 I decided that before I got to far into this experiment, I should do a sample to see what might happen. I love the results. Nice organic texture and it shrank up quite a bit. First, I just rinsed it in hot water and threw it in the dryer with a towel. It shrank a bit, but not enough. Next, I washed it in the washer with a towel, in hot water and then put it in the dryer and Voila! – just want I was hoping for.
I have finished the stitching in one direction, now I have to stitch vertically. I hope to get that done tomorrow.
I have to be at the hospital at 7:30 in the morning for an ultrasound of my gall bladder. I am wondering what they will find. I have been feeling icky all day — hives on my legs again and abdominal pain. There is something going on.
I had a nice week-end. I met one of my blog readers for lunch on Saturday. Kaylin is from Seattle and is going to start classes at Oregon College of Art and Craft in the fall, with a fibers major. She was here for orientation. We had a great time over lunch with her friend, Carol.
I have been busy with SDA work and getting the Artists Among Us database done. I have 60 artists with an average of 12 pieces of art to be coded and entered. I am going to train someone else to help me. I am hoping that this is the last year that I will be doing this job. I am trying to keep on top of things, just in case I have to take time out for gall bladder surgery.