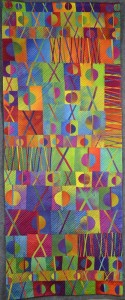 I can finally show you the quilt that I was working on  and only showed sneak peeks. It was for the Dinner at Eight invitational show which will debut at IQF Long Beach and then go to Houston. The theme this year was "An Exquisite Moment."  That theme threw me for awhile, and then I thought of hugs and kisses from my grandchildren. Those are most definitely exquisite moments.
I had in my mind that I wanted the piece to be luminous and full of vibrant color. I ordered hand-dyed silk from Frieda Anderson. I used Mistyfuse because it hardly changes the hand of the silk. I created X and O blocks in different sizes and worked them into a layout to fit the required size of 24 inches by 60 inches. I decided that diagonal machine quilting would work best to tie it all together. I used silk thread in 6 different colors and randomly changed the color as I stitched. Here is a detail.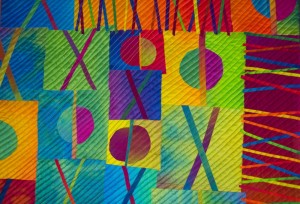 I love this quilt. It made me happy to make it. You can see all the artists who were juried into the show on the Dinner at Eight blog.
I am in the vortex that I knew would happen about now. Two important events for which I have a lot of responsibility are requiring lots of my attention. I am trying to stay calm and carry on. One is the SDA conference registration. Right now, I am dealing with workshops that had to be canceled for low registration, notifying people, issuing refunds, etc. Registration fee goes up on May 1 so there is also an influx of people registering before then.
I am also setting up the Artists Among Us database. Our event is May 17-19. I have a PC laptop that was donated to the Arts commission. The PC and I are not really getting along very well. I did manage to get all the artists into the database. Now I have to enter all of their art work inventory.
So that is my life right now. It is not forever. I will survive. I may not blog as often.