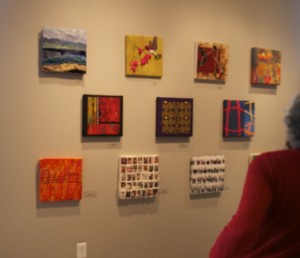 Today is my favorite day of the SDA Conference — Gallery Day. Wherever the conference is, several venues have exhibits of fiber art. I love seeing the variety and creativity. I thought I was going to miss it as I was still at work at my registration desk when all the busses had left. Then, Jane Dunnewold walked up and asked what she could do for me. With my saddest face, I said help be get to the gallery tour. She drove me to the members show where I caught up with another local San Antonian and I rode along with her to most of the shows. When she had to take off, I was able to hop on one of the buses. This year, the member's show was 12 x 12 on gallery frames. There was some amazing work. This grouping has my piece in the bottom left. I apologize for the quality – I had my camera on manual instead of auto.
Our next stop was to an exhibit with work of 4 artists. I loved this installation by Nathalie Miebach – she is going to be one of our speakers. I will share work of others at a later time.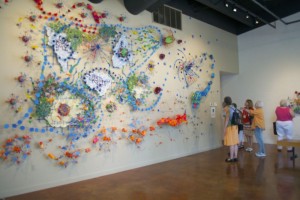 Our next stop had an exhibit of two artists. This installation of paper cast busts was done by Janet Lasher. She was there and gave us a talk about her methods and her intention. I enjoyed meeting her.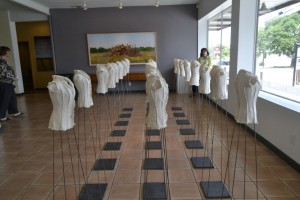 Two more artists, who were friends at Arizona State when they got their Master's, were at the next venue. It excites me so much to see these young artists embracing and then bending the rules of traditional fiber art.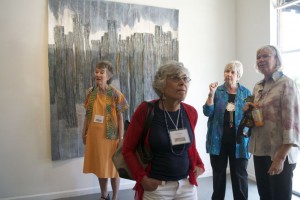 This is one of the abstract landscapes by Elise Deringer. She does interesting things with silk, dye, sand, salt, glue, etc.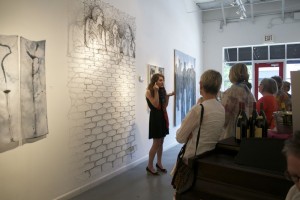 These stitched pieces by Kelsey Wiskirchin blew me away. She makes a grid with straight line stitching on water soluble solvey then free motion quilts the drawing. It hangs away from the wall so the shadow is an extra design element.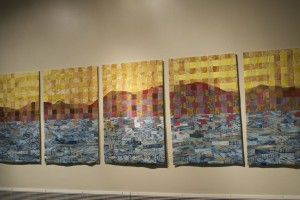 We then went to another group show. This piece was so beautiful in its details. It is pieced shibori by Sara Goodman. Here is a closer shot.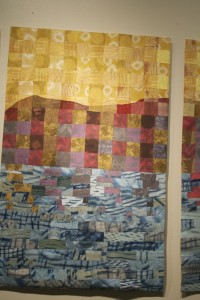 Another exciting exhibit is the student show. 30 pieces were juried from 160 students. I loved this piece from a student in
China.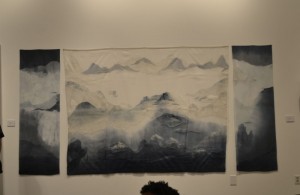 Our last stop was at a special exhibit of new work my Jane Dunnewold. She is doing some exciting new work with molding paste and stitching and printing.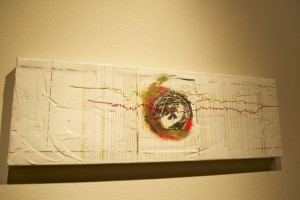 So there is an overview. I will share more images as time allows.
Yesterday was a really busy day for me. Meetings in the morning and then registration from 11:30 – 8 pm. Tonight was the opening of the vendor mall. Woo hoo! I will go back and spend some money for sure. We had a Tex Mex buffet and there was supposed to be a dessert buffet, but most of us never saw it. The silent auction opened, too. I would like to invite you all to look at the fantastic goods being offered and you can place a bid on line. You do not need to be a member of SDA. Here is the LINK.
I have to be at work at 7:30 – better get to sleep. If my dear friend Janet Shore is reading this, Kasuri Dye Works is here and they say Hi!!