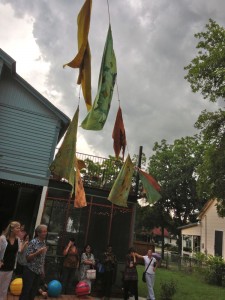 I am exhausted and on sensory overload. I have managed to get mostly unpacked. I couldn't do laundry until this afternoon because Mr C had a plumber here putting in a new water line. The old one sprung a leak and lots of money later, we have higher water pressure and no leak. At least there is something to show for it. I also stocked up on some food as Mr C, on his own, had eaten just about everything in the house!
I had an extremely busy time at the conference. Not much down time at all. I will try to share some highlights. Jane Dunnewold is president of the board. Here she is with Marci Rae McDade, journal editor, talking about the SDA website.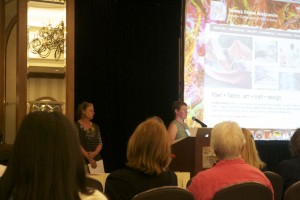 Speakers: Janet Echelman who does these amazing giant rope structures is a phenomenal force. She was our keynote speaker. If you can, visit her website and watch her TED talk.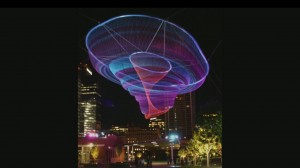 Another favorite of mine was Otto von Busch, a Swedish clothing designer,  who wants to release us from being slaves to the fashion industry through "hacktivism" or transforming your clothes into original works of art. One of his projects is to invite people to bring a stained piece of clothing and paint it with a black motif – he says black is always in fashion.
Other great speakers were Natalie Miebach, who uses the graphs and numbers of tides, weather and other natural phenomena, to create her baskets and installations and Elissa Auther, who spoke to us about fiber in the contemporary art world. I really enjoyed listening to Michael James talk about his textile journey and the difficulty of having his wife diagnosed with early onset Alzheimers and the resulting grief and how it has effected his work.
It was wonderful to reconnect with old friends and to make new ones. Judith Trager, who is on the SAQA board, was at the conference and we spent a lot of time together. Leslie Tucker Jennison, lives in San Antonio, and was at the conference and graciously, took Judith and I and other friends away from the hotel to enjoy some of the better food of the city. Here are Leslie on the right and Judith in the center, at the pre-fashion show fundraiser. The hostess, Robin Early, is reflected in the mirror.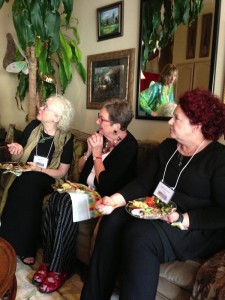 The fashion show, always a big hit, was held at the University of The Incarnate Word. Those of us who attended the cocktail party had front row seats on the runway.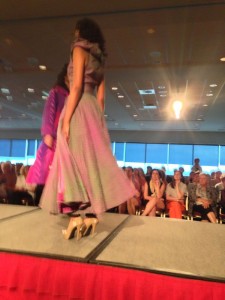 I managed to spend some time with the vendors and bidding in the silent auction. I will get some photos of my loot tomorrow to share with you. I saw these carved stamps, but I didn't buy any.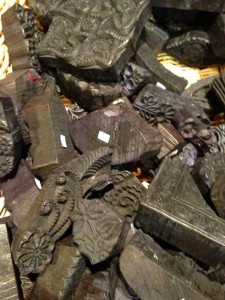 I did spend some money at this booth. I bought the top that is hanging there.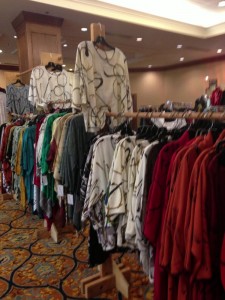 The conference closed on Sunday around noon. One of the highlights for me was seeing Jane Dunnewold's new studio. She has a house with a kitchen and several rooms for "dry" work — designing, critiquing, etc. She built a brand new wet studio. Here are some shots of that.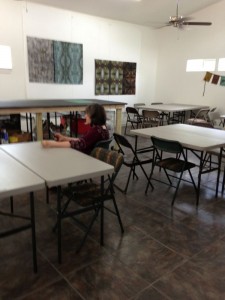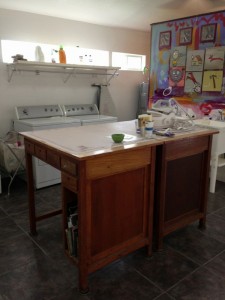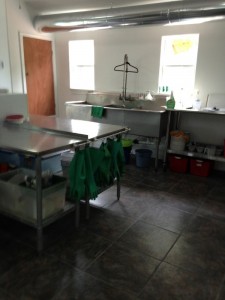 I would love to spend a week dyeing, discharging and/or printing in this place. Several San Antonio artists share the space with Jane and had there work displayed. I especially liked the prayer flags by Sharon Rowley. Here is a closeup of them.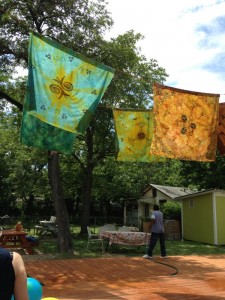 We had a party at the studio for all of our great volunteers. Most of them were from San Antonio or Austin. Jane arranged for a Mariachi band to serenade them at the end.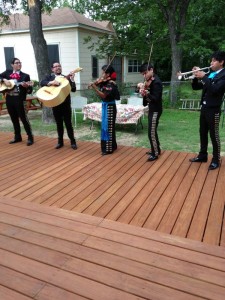 I was back at work on Monday, checking in Post-conference workshop participants and attending a board/staff meeting. I left Monday afternoon for a long trip home via Las Vegas and that turned into a longer than anticipated layover because a flight was delayed coming in from Orlando. By the time I got home, I only wanted to get into my own bed and sleep for 12 hours. I only managed 7.
Needless to say the last month has been a whirlwind for me from Artists Among Us to the wedding and then the SDA conference. I survived and enjoyed myself through it all. We are all still smiling about the beautiful wedding. I am waiting for the official photo release!!