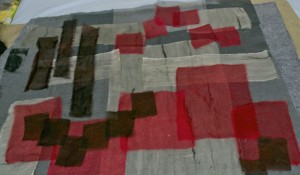 I gave up on the painted batting that just didn't work. I used gray felt for the batting which was perfect. The gray felt is covered with gray organza squares. I started tearing my organza pieces to collage, but the plain gray areas were not working for me so I took a deep breath and painted some marks with black paint.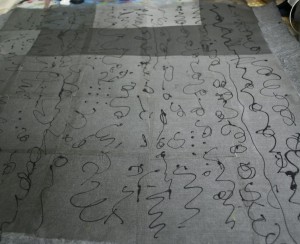 It is drying and hopefully, this will work. At any rate, I am having fun, again.
I also did a test swatch of cotton stitched to pre-felt and then shrunk in the washer and dryer.  Not thrilled with this. I think that silk works better.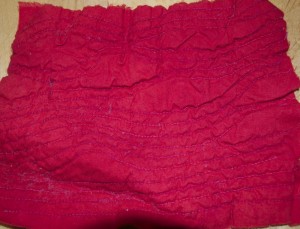 We had a nice father's day family time yesterday. I made oven fried chicken, roasted potatoes, asparagus and a couple of salads. Stephanie made the annual strawberry shortcake for Mr. C. She bakes the best biscuits.
I am finally feeling rested and able to get caught up on every thing that I have been neglecting. My mojo has returned!!