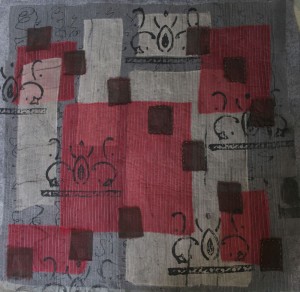 At some point over the last 24 hours, ir occurred to me that one of the printing blocks I bought on Wednesday would be a great counterpoint to the work I have done so far on the red organza collage. It is always a leap of faith to print on a piece that is well underway and quilted, to boot. But, I really like how it has taken this piece to a new level.
I did some discharge on red silk and red cotton. It is drying and I will heat it tomorrow to see what happens. I am still hoping to do another shrinky dink quilt.
Have a great week-end and happy solstice!