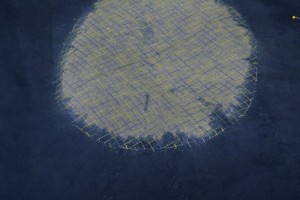 Some days are like that, you know. The stars align or your karma is on the upside. I did some SDA work in the morning and then hit the studio. I want to get started on another moonstruck quilt with the indigo organza. The first thing I do is get the organza pinned to the wool pre-felt. Then I stitch around the moon shape to define it.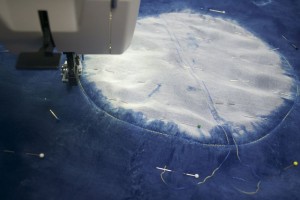 Then I do the stitching vertical and horizontal for the texture when it is shrunk. I am using a  blue to white to yellow variegated thread. I think it will give some nice color to the moon.
Tonight was the opening reception for the Sur(face) Forward juried show at the Corvallis Art Center. It is housed in a sweet building, a former Episcopal Church. This photo is a bit blurry, but it was raining and I was afraid of melting.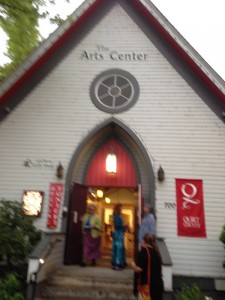 There was a large turnout for the show, many of the artists were there as well as local art lovers.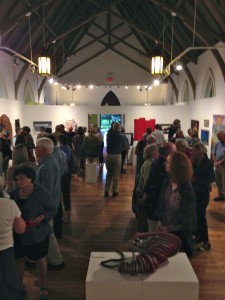 My piece, Kelp Dance, was at the far end of the room on the stage area. It was very well lit and I was happy with how it hung. It is the one on the right.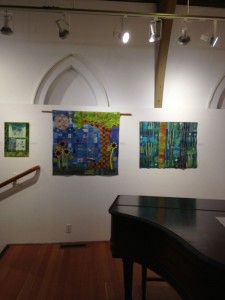 There were many pieces juried into this show, all of high quality and such a wide variety of textile work. It was exciting  to see. I do love being in a show of this caliber, meeting the other artists and feeling so good about it all.
Here are three of my friends with work in the show: Jae, Barbara and Janet. That big piece behind them is a weaving.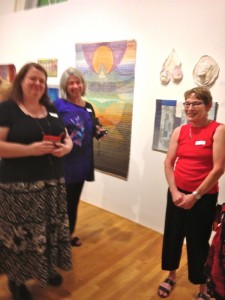 And here are two good friends from Portland, Bonnie and Jill.
Here is Bonnie talking about her work with the delightful juror, Barbara Pickett.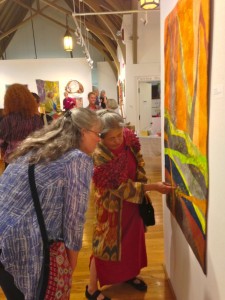 After the reception, Mr C and I went out for a nice dinner before our hour and a half drive back to Portland. When we left the restaurant, we were treated to this beautiful sunset.