Lisa gave me this set of fabrics that she designed for Cloud 9 Fabrics. I am going to make a quilt for Paige and one or two of my nieces. It is a wonderful collection to work with.
We made it back to Portland yesterday and after some lunch and unpacking, I was back in the studio, sorting and purging. We had a beautiful day for a drive on Sunday and made it to Grants Pass by 5 pm. We saw this gorgeous sunset as we were driving to our motel. It took my breath away.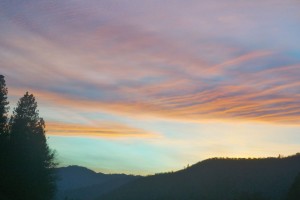 Yesterday, we awoke to rain and fog, but as we drove closer to Portland, the sun was coming out. It has been freezing cold and clear. We stopped and bought groceries and a wreath for the front door. I don't think I am going to do much decorating this year.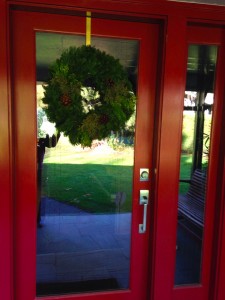 So, I finished the cleaning out of my studio and have separated what I want to keep and what I want to sell or donate. Mr C did a great job of cleaning the floors behind me, vacuuming and mopping them. The studio now looks like this.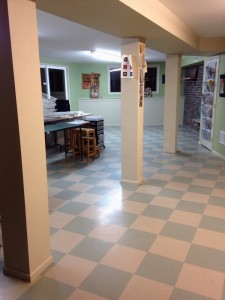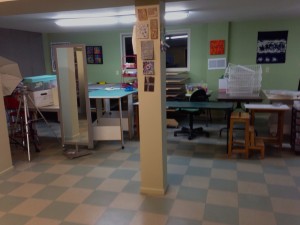 Every thing has been shoved to one side. Tomorrow, I will start setting up for my studio sale. Steph is coming over in the afternoon to help. On Thursday and Friday, I have a friend who is going to come and help me. If you live in the Portland area, come by between 10 and 4 pm. and check out what I have for sale – lots of goodies, books, fabric, magazines and some of my quilts will be greatly reduced in price. E-mail me for my address.
Next on my agenda is cleaning closets and other areas upstairs. Got to have everything done by January 1.