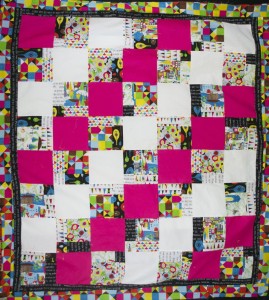 After a few glitches, I finally have Paige's quilt ready for sandwiching and quilting. Two more to go and I wonder if I can fit them in to my busy schedule. I know I am going to get slammed with moving household stuff at some time in the near future, whether we find a new place or end up renting for a while. I am scheduled to give a talk at the Oregon SAQA conference on my creative process or something like that. I know there are many in the group who would be as qualified as me to do this and so I am feeling a bit intimidated.
I am also taking the year long online Master Class with Elizabeth Barton. I skipped the first month for a couple of reasons. I was pretty busy with house stuff, and it was on value which I have done with her in another online class and in a workshop here in Portland.
This month's assignment is to show movement in your work. Sketches were due on the 10th and we are to have it done in the cloth (no stitches) by the 20th. Here are my sketches — a difficult task for me, as I like to work in my head and then just start cutting and designing with fabric.
This one is flames. She suggested that the darker values should be in the front it it is flames, but it could be a plant. I tried inverting the values. I like that version better, I think.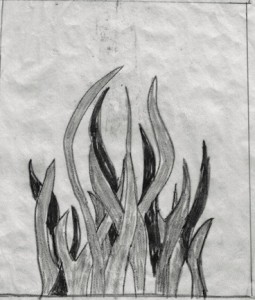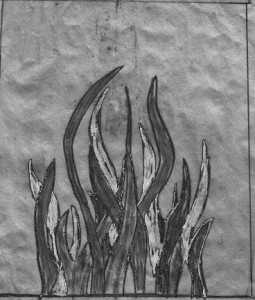 Next was forest stream. I like this a lot because I do like to do simplified tree landscapes.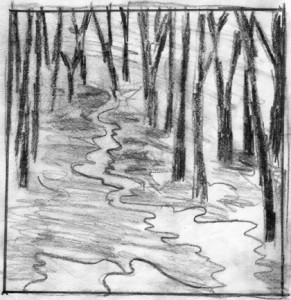 And this is the one she liked best and I love it too. I want to make it really large so getting it done by the 20th could be problematic. I would like to do it in silk with lots of black, setting off the colors.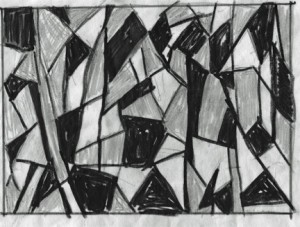 So that is what we are up to. Now, I must get myself together to go out to a Valentine thing at Trinity with Mr. C. I haven't posted a photo of our lovable Scooter so here he is to wish you a happy heart day!