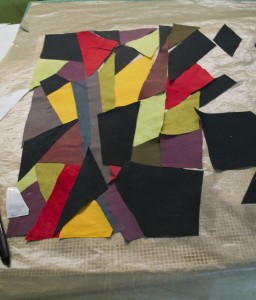 I have so many projects going on that I can't possibly get bored! I am making a bit of progress of filling in the movement piece for my class with Elizabeth Barton. It is tedious, but I think I will like the end result. Here is my workspace: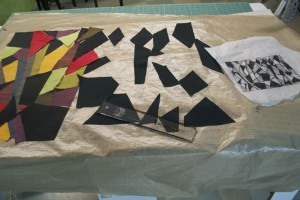 I have a teflon sheet over the pattern that I printed and my sketch nearby so that I can work on the values.
I am also quilting Paige's quilt. We are going to CA in mid-March for her birthday and it needs to be finished. I am doing tedious straight line quilting on the diagonal through the squares.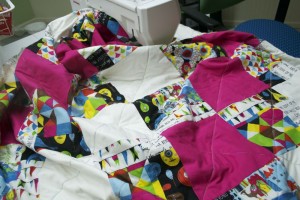 I have been plagued with aches and pains. First, I have had a flare up of carpal tunnel in my tight hand. I tend to cramp my hand at night when I am stressed so I have found that if I wear a wrist stabilizer to bed, it really helps. I also have developed a cantankerous lower back pain. I am icing it, doing stretches and bought some new walking shoes.
On another note, we have decided that a condo or townhouse to purchase may not become available any time soon, so we are renting a very small (718 sq. ft.) apartment in downtown, near the art museum ane the theater where we attend the symphony and  close to the light rail and the street car. We move in April 7th and will have a moving sale soon after that.
Only four more posts until my 2000th. Stay tuned for some nice giveaways in celebration!